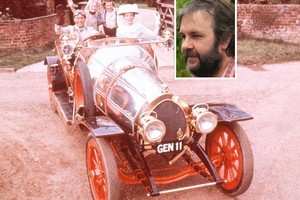 They have fame, fortune and a fleet of wheels that are usually found in car museums. Liz Dobson checks out celebrities and their vehicles
Sir Peter Jackson
Although he's currently filming The Hobbit around New Zealand, many Wellingtonians could be mistaken for thinking the director is remaking the 1968 film Chitty Chitty Bang Bang.
Jackson has been seen driving his kids around the Wellington suburb of Seatoun in his new wheels - the car Chitty that could drive, float or fly.
The iconic car sold at auction in Los Angeles in May this year for nearly $1 million. Although Chitty spent more than 30 years competing in charity races around Britain, the Oscar-winning director plans to take the car to air displays at the Hood Aerodrome in Masterton, where children will be able to ride - but not fly - in it, in return for a donation to charity.
Eddie Murphy
The Shrek star proves he's no donkey when it comes to his choice in cars.
Although Murphy already has a Rolls-Royce Phantom in his garage, he has now made room for a black Mercedes-Benz SLS AMG with red interior. Wonder how many big green ogres he can fit in it, though?
George Clooney
He's a mega movie star - with a love for small cars, and he was one of the first owners in the US of the electric Tango T600 two-seater.
The car has 13-inch tyres and goes from 0-100 in four seconds - which is helpful when trying to avoid the paparazzi. First spotted on the set of Ocean's Thirteen, heart-throb Clooney was quick to tell extras that the 2.65m car could hold its own on the busy highways of LA. Clooney also recently added a Tesla Roadster to his electric line-up of cars. I'm available to be your passenger any time, George.
Kim Kardashian
The reality star has bought herself a belated wedding present ... a white Ferrari 458 Italia, costing a cool $275,162. But as the Keeping Up With The Kardashians star has just filed for divorce from her husband, NBA player Kris Humphries, we're not sure if she'll keep the pressie. Regardless, we're pretty sure her relationship with the car will outlast her 72-day marriage.
Paris Hilton
Paris Hilton wanted her pink Bentley Continental GT to be extra-special, so she ordered a $348,043 diamond-encrusted dashboard for some extra bling. The heiress bought the Bentley as a Christmas gift for herself in 2008.
Paris said of her ride: "I've always wanted a pink car. I think when you're a little girl and you have the Barbie Corvette, you're always like, 'Oh, I wish I had a car like this one day'."
But she isn't the only reality star to be zipping around Beverly Hills in a pink Bentley - designer Kimora Lee Simmons drives a convertible Continental with a custom-made pink interior.
P. Diddy
Rap star Sean "P. Diddy" Combs gave his son Justin arguably the best sweet 16 gift a kid could receive - a car ... and not just any car.
Forget about a second-hand Corolla or a sensible hatchback, Justin's present was a $255,000 Maybach, one of the most expensive cars on the market. His new ride was wrapped in a red bow and came complete with a driver to escort him around New York City because Justin didn't have his licence. Hey Diddy, my birthday's in March!
Jay Leno
The talk show host is a huge car fan - so huge that he has a specifically built 1580sq/m garage in California.
Vehicles parked in the garage include a 1906 Stanley Steamer and a 1970 Dodge Challenger, plus planes and motorbikes, and a recent addition is a $320,000 Mercedes SLR McLaren.
The Tonight Show host even has a website, JayLenosGarage.com, and needs a team of mechanics to maintain the 220-plus fleet. He doesn't say if he has a full-time car groom.
Jerry Seinfeld
In the television series Seinfeld, his character drove a Saab, but in real life Jerry Seinfeld drives another European marque, Porsche. In fact, he owns one of the largest private Porsche collections in the world.
The centrepiece is an $860,000 Porsche 959, one of only 337 built, but Jerry can't drive it because it didn't pass the US emissions test.
Jay-Z
You know you're stinking rich when you can afford to spend $9.3 million on a car. Yes, you read that right, $9.3 million. The rap star-cum-producer bought a Maybach Exelero that can reach a speed of 351km/h, despite weighing over 2.66 tonnes. But as Jay-Z's wife Beyonce is due to have their first child soon, the rapper may have to ask for a car seat to be fitted.