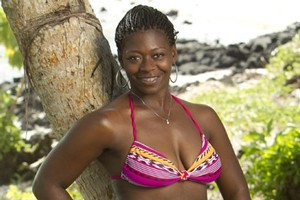 Stacey Powell says she rejected embraces from her former tribe mates after being eliminated from Survivor because she was angry at being "stabbed in the back".
Powell, a funeral director from Grand Prairie in Texas, was eliminated from Survivor: South Pacific after narrowly losing a brutal immunity challenge in which contestants had to balance heavy weights on their shoulders.
The 44-year-old then lost her Redemption Island duel against Christine Markoski and was sent home.
In hilarious post-elimination scenes, Powell was offered a hug from Upolu's leader Benjamin "Coach" Wade - in his third turn on Survivor - but she rejected it and several other offers from her tribe.
Powell told nzherald.co.nz she thought the scene was "hilarious".
"You want to give me a hug, dude? Are you serious? It's too late. You should have done this from day one ...
he stabbed me in my back. I saw through him a long time ago."
She said her elimination was unfair after performing well in her tribe's challenge, in which she balanced crippling weights on her back for more than 90 minutes. She slipped while trying to rebalance them.
"I just feel like after all this hard work I did - I broke my back with 140 pounds - I thought they'd at least give me a chance.
"I was just standing there with all that weight, at the end when it came down to my buttocks, my hands started to get numb, my feet were burning ... I started to push it back up and that's when it fell."
She accused her tribe mates of falling under Wade's spell.
"Benjamin was the cheerleader of the camp. He should have been the first to go, but he came over there telling all his interesting stories, he was always the one doing all the talking.
"He should have been the first to go because of what happened last season (with winner Boston Rob) ... I did a lot but Bejamin didn't do anything. He was allowed to have a smooth ride."
Powell picked Markoski to win.
* Survivor: South Pacific screens on Four at 8.30pm every Wednesday night. nzherald.co.nz will interview every contestant on Survivor as they're eliminated.
- Herald online