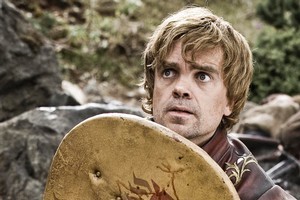 Hurray. The RWC has finished but now there's another huge game to watch. Sky's SoHo channel on Channel 10 finally launched on Monday, introducing Game of Thrones, the adaptation of George R. R. Martin's set of fantasy novels A Song of Ice and Fire. It was just the kind of programming to suggest that so far so good for SoHo, even if it has come at the onset of summer and will cost another $10 a month from December.
It wasn't easy keeping up with Game of Thrones' two-hour pilot. The first hour introduced a dizzying cast of characters - some related, some who acted as though they definitely weren't related, some human, some canine, others with freaky eyes and Chucky teeth. The opening credits show an amazing map of the Seven Kingdoms of Westeros with stirring music by German composer Ramin Djawadi; perhaps they should include a family tree. Overall though, producers David Benioff and D.B. Weiss did a fine job of condensing a lot of information in the opening episodes. They've jokingly described the show as The Sopranos in Middle-earth. Like The Lord of the Rings there's a short guy - Peter Dinklage won an Emmy for his portrayal of dwarf Tyrion Lannister - but Frodo didn't go to bed with whores and wake up with raging hangovers.
Perhaps Smartacus is a better title. The cussing feels at times out of sorts with the medieval setting but this only adds to its brutal allure.
Fortunately it errs less on fantasy and more on earthly battles. Even the good guys like Sean Bean's Lord Eddard "Ned" Stark must resort to a common law to survive. A scared young soldier managed to evade the limb-ripping "white walkers" only to be killed by Ned's sword for being a deserter.
Shocking though it is, Game of Thrones has a subtle sense of humour. You can't help but be amused that there are three pretty blond princes, all of them ghastly. The eldest, Jaime Lannister, who looks like an underwear model, attempted to murder a child after the kid saw him doing things to the queen, who also happens to be his twin. The deposed prince sold his virginal sister to a Dothraki tribesman, only for her to endure the same activity as the queen and her brother. And in case you thought the bad behaviour was exclusive only to the adults, the youngest prince called Ned's daughter Aria the c-word. He was so peculiar he might just be the product of incest.
On a very different note but premiering on the new HBO-sourced channel on Monday was How to Make it in America (now from Thursdays, 8pm) from the producers of Entourage. Instead of losers from Queens navigating their way up from the LA D-list, this follows two losers intent on getting out of their funk in New York, funk being the operative word. It's grittier, shot at street level with arty montages of graffitied warehouses in the Lower East Side and a soundtrack featuring Aloe Blacc. It has a naturalism missing from fixed camera shows, and everyone sounds cool when they talk.
Bryan Greenberg plays Ben, a fashion student still pining for his ex. His mate Cam sells skateboards. Ben still loves his ex (Lake Bell). They decide to start a denim fashion line. The first episode took its sweet time establishing all this. It wasn't really until the side players are introduced - Cam's gangster cousin Rene (Luis Guzman) fresh from the slammer and their wealthy but nerdy high school mate (Eddie Kaye Thomas who played Finch in American Pie) - that the show's pivotal idea was revealed. Just as well. It was starting to look like a case of style over substance.
How to Make it in America has potential but like Entourage these boys can only claw their way up the social ladder and come tumbling back down again, fall out with one another and meet pretty girls. Not much to hang a show on but with New York as their backdrop and life a whole lot tougher than it ever was for Vince, it's enough.
-TimeOut