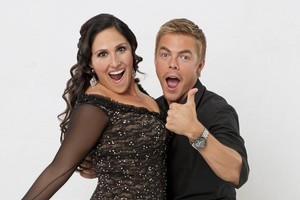 No, it's not the return of the much-loved and much-watched New Zealand show with Jase the Ace and various celebrities, sports stars and politicians being put through their rumba and foxtrot paces. It's the American version of Dancing With the Stars that is taking over TV One's primetime on Sunday.
The local Dancing With the Stars - with such glamorous moments as Rodney Hide dropping his partner Krystal Stuart at the end of their cha-cha - was dropped by TVNZ in November 2009. At its peak, it was one of the most watched shows on TV but its multimillion budget was not sustainable.
So those who love watching celebs with two left feet, and seeing the occasional star finding their next calling, will have to be content with the US series. While it's in its 13th season, at least these shows screen only a month or so after the States.
A crash course about who's who might be useful.
The Gunn of the show is Tom Bergeron, who is also the host of America's Funniest Home Videos; the Candy Lane is model and series seven winner, Brooke Burke; and the judges are Brit ballroom dancing pro Len Goodman, Italian choreographer and ex judge on BBC's Strictly Come Dancing Bruno Tonioli, and dancer, singer, and game show host Carrie Ann Inaba.
The new batch of A-listers include actor and former talkshow loudmouth Ricki Lake, actor David Arquette who is the on-again, off-again hubbie of Courtney Cox and star of Scream 1, 2, 3, and 4, and Rob Kardashian who, for E! Channel watchers, will be known as the brother of Kourtney, Kim and Khloe.
Less well-known contenders include Chaz Bono, a transgender man and the only child of Sonny and Cher, Hills star and hottie Kristin Cavallari, and Carson Kressley from Queer Eye For the Straight Guy.
Then there's the beautifully named Hope Solo, goalie for the US women's soccer team, LA Lakers basketballer Ron Artest, and Italian model and actor Elisabetta Canalis.
TimeOut's picks for those most likely to get their groove on, while maintaining the all-important elegance, poise, and passion, are Solo (because of that name), Chaz (good pedigree), and Arquette (because he has something to prove to Courtney).
When: Sunday, 8.30pm
Where: TV One
What: Celebrity twinkle toes, US-style
-TimeOut