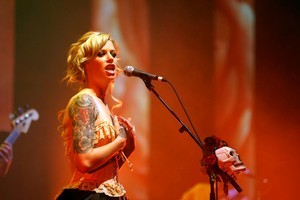 There's always something slightly odd about music awards ceremonies. I struggle to see how definitive winners can be decided. Picking favourites is fraught with endless difficulty, and the New Zealand Music Awards (which take place tonight at Vector Arena) are no exception.
How am I supposed to decide who to back between Ladi6 and David Dallas in the Best Urban/Hip Hop album category? Both The Liberation of ... and The Rose Tint have been on high rotate for me this year - in fact they're albums so familiar I know the exact way each track merges into the next.
Ladi6 has a unique and catchy way of blending soul and hip-hop together, her rich vocals charismatically engaging your ears; and Mr D-a-double-l-a-s has an effortlessly cool rhyming flow punctuated with cutting observations like "Some will pray on Sunday, some will spend it hungover. Whether drunk or sober, house is getting colder, globe is getting warmer. Maybe that's some karma for real."
So they're both right up there in the "artistic merit" stakes, and it's a bit tricky to decide who wins in the "commercial success" stakes because The Rose Tint was released for free online, so it's rather unfair to compare Dallas' 56,000 digital downloads with Ladi's gold-selling album.
They've both been doing pretty fine overseas too thanks - Ladi getting props from Erykah Badu, and Kanye West putting Dallas' videos on his blog. Nope, I can't choose.
And that's just one single genre category! What about Ladi6 vs Julia Deans in the Best Solo Female Artist category? Or Cairo Knife Fight vs Beastwars in the Best Rock album category? Heavy. And don't even get me started on the Album of the Year.
But I've had a revelation. Maybe I don't have to choose. The Music Awards aren't so much about who wins on the night, as they are a giant party, and a celebration of the very fine music being produced in New Zealand.
If you're on that pretty impressive finalists list then I reckon you've kind of already won. Maybe you don't get a trophy, but it means you've received some heavy kudos from your peers, critics and fans alike, and that kind of recognition is always sweet.
And looking at that list, there's a sense of success in simply seeing how the awards have expanded in terms of the genres and bands being included in the ceremony - you know it's a good year when the band who have the highest number of nominations (The Naked and Famous) are up for Breakthrough Artist and Best Alternative Album. Not only did they create an outstanding album, they've definitely broken down some pretty rigid genre walls and put up some strong competition for the more established local acts.
But don't worry, established acts are celebrated too. The New Zealand Herald Legacy Award allows us to recognise an act that has left an indelible impression on our musical landscape, and relive some intriguing costumes and haircuts. This year the award is going to the ever-stylish and influential Dragon. Remember those amazing platform boots Todd Hunter wore in the video for This Time? Actually I didn't, but I've seen them now. Crikey! If anyone wears boots like that tonight they'll be getting some attention.
Supergroove will be closing the awards with a cover performance of a Dragon hit. April Sun in Cuba or Are You Old Enough? Though both seem a little on the slow side for them, so we're in for a surprise.
-TimeOut