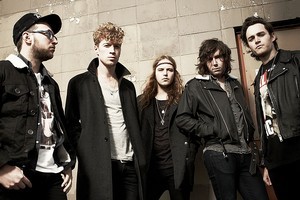 The lead singer for Midnight Youth had a busy week filming the band's latest video.
Front man Jeremy Redmore travelled to London, the US and Hong Kong to shoot World Comes Calling, the second single from the band's new album of the same name.
It's a more melodic and radio-friendly return for the band after the punk-influenced first single Who Said You're Free.
Check out Midnight Youth's World Comes Calling:
Let's face it, keeping up with Kate Moss can't be easy.
But brilliant boy-girl duo The Kills have found time in their busy schedules to release a new video for the slow-burning atmospheric churn of Baby Says.
The twisted clip features the band, Alison Mosshart and Jamie Hince - who is married to Moss - performing to a crowd of cross-dressers in a dimly-lit underground club.
It's one of those videos where the music and the video fit seem to fit together perfectly.
Baby Says is taken from The Kills' recent album Blood Pressures.
Check out the clip for Baby Says:
Local and international artsts combined their talents for a fundraising track for the Haitian charity, the Kenbe La Foundation.
Kenbe La - the Haitian phrase for "never give up" - is also the title and theme of the track written in response to work being done to rebuild earthquake ravaged Haiti.
The Kenbe La (Never Give Up) single is a collaboration of musicians: Minuit's Paul Dodge wrote the music, Nelson-based MC Luke Epapara (aka The Kurnel MC) wrote and performed the verses, while Lisa Tomlins (Fly My Pretties/Fat Freddy's Drop) sang the hook and harmonies.
The track was then mixed by Minuit's Ryan Beehre.
If you like what you hear, you can download it here.
Check out the video for Kenbe La:
The song's about a year old, but Wolf Gang have only just gotten around to recording a video for their big single Back to Back.
It's about time too - it was the band's breakthrough and deserves a clip.
Check out the video for Wolf Gang's Back to Back:
Finally, feast your eyes on History of Rap 3, the third in Jimmy Fallon and Justin Timberlake's brilliant mashup of hip-hop history.
The video, taking in everything from Outkast to Kanye West and Lauryn Hill, can be found here.
- Herald online