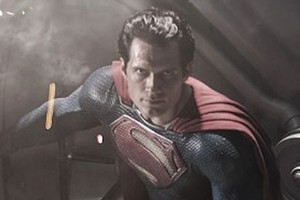 Man of Steel? More like rock-hard Pecs of Steel.
British actor Henry Cavill said he'd been busy bulking up to play Superman in the upcoming reboot, and it seems his efforts have paid dividends. And then some.
The former Tudors star, 28, has taken up the mantle in director Zack Snyder's Man of Steel, the latest cinematic incarnation of the iconic superhero.
Cavill showed off his eye-popping muscular physique while filming green screen sequences for the flick in Vancouver, Canada, last week. Shirtless, unshaven and decked out in a pair of tatty pants, Cavill was snapped filming what appears to be a big action scene involving a helicopter and a bevvy of extras.
Check out a ripped Cavill in action here.
Oy vey, Supes has really let himself go.
Time for a lie down ... before I hit the gym.
Cavill revealed in a recent interview that he'd taken on a punishing workout schedule to pump himself up to Man of Steel proportions.
"I'm on 5000 calories a day... You've got to eat protein first, then a little bit of carbs...you've gotta keep your hunger levels going," he told Total Film.
"I'm training two and a half hours a day, pushing my body beyond its normal limits, putting on a lot of muscle mass and just making myself look like Superman."
Of donning the superhero threads, he said: "It's extremely cool. There's no other feeling like it.
"They just put it on, I turned around and look in the mirror and you can't really play it cool - you sort of guffaw and laugh. I thought 'Okay, holy hell, this is real, it's not a joke anymore. This is it ... you're doing it, you're right in the middle of it.'"
Superman fans were given a first look at Cavill in his costume back in August, signalling that Snyder's opted for a retro-flavoured, slightly streamlined and souped-up take on the muscly superhero.
Cavill will star alongside Amy Adams as Lois Lane, Russell Crowe as Jor-El, and Laurence Fishburne as Daily Planet editor Perry White.
Kevin Costner and Diane Lane play Clark Kent's adoptive parents Jonathan and Martha Kent.
Man Of Steel is due for release in 2013.
Bonus: Boardwalk Empire star Michael Shannon, who plays villain General Zod, talks to Digital Spy about his role in the reboot:
Are you hyped for the new Superman film?
- Blogger Bites Back