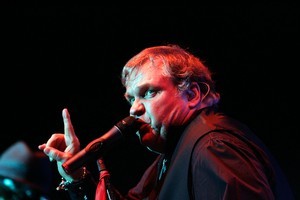 With a 40-year career that has seen soaring highs and some horrible lows, Meat Loaf has become as unpredictable as a French rugby team. One could sense an air of nervous anticipation among the crowd as they amused themselves with a bout of pre-match Mexican waves.
Would there be a repeat of the infamous AFL Final's gig or the health problems that postponed the Tauranga concert? Would there be a reprise on the cataclysmic meltdown in Celebrity Apprentice?
If such questions were haunting the man himself they can only have served as motivation as the embattled singer delivered a stunning display of passionate intensity and consummate showmanship.
The musical cognoscente can quibble about the timbre of his voice but no one could question the way Meat Loaf pours his heart and soul into his songs or his remarkable ability to forge a connection with his fans.
As the show opened with the Rocky Horror songs that kicked off his career the singer was prowling the stage quizzically soaking up the atmosphere.
After a triumphant delivery of Bat out of Hell he was ready to open up to the fans and his amiable banter had the self-deprecating style of a polished stand-up routine.
A couple of songs from the Hang Cool Teddy Bear concept album were performed with real conviction and a video featuring animated pop art typography neatly reinforced the sweet, jaunty tone of Los Angeloser.
A lovely lilting piano intro set a playful mood for You Took the Words Right Out of My Mouth and the performance built to a glorious sing-along crescendo.
By the time Paul Crook's guitar magic kicked off Rock and Roll Dreams Come Through, Meat Loaf might have been sensing this concert could be the platform for yet another against-the-odds comeback.
The extended finale to the two-and-half-hour set featured hard-rock workouts from the excellent touring band and a brilliantly theatrical rendition of the iconic Paradise by the Dashboard Light with long-time singer partner Patti Russo in fine form.
Meat Loaf's voice was cracking with emotion as he thanked the fans and the show ended with a passionate affirmation of the "don't ever stop" ethos that is at the heart of rock 'n' roll.
What: Meat Loaf
Where: Vector Arena, Saturday