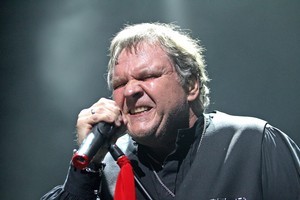 Rock legend Meat Loaf fought poor health and ailing vocal chords to perform at his Auckland concert last night.
But as late as yesterday afternoon concert promoters were hardly convincing when asked if the show would go ahead.
The performer, born Marvin Lee Aday but known to a legion of avid fans simply as Meat, waited until an audience was packed into his Tauranga show on Friday before announcing it would be rescheduled to next Tuesday.
That followed a Wellington show on Wednesday which critics panned. A 13-minute appearance earlier this month in Melbourne at the AFL grand final was slammed as a "shocker".
Meat Loaf, made famous by his 1977 album Bat Out of Hell, told fans on his Facebook page: "I sincerely apologise for having to postpone tonight's show in Tauranga. It is the one thing I never, EVER want to do. I've gone onstage before when I shouldn't have and I regretted it because that audience means more to me than anything. We'll be back on Tuesday and promise to give a great show.
Again please accept my apologies. (I am still planning on Auckland tomorrow - fingers crossed!!)".
A fan, who could not be reached for comment, wrote on the webpage that the star had spent the evening before the Tauranga concert in hospital with a swollen vocal cord and was "spitting up blood", although promoter Maria Robinson denied this.
"That's not true," she said. "He did go to hospital because he had a sore throat and he went and saw a throat specialist. It's just that his condition's deteriorated since that show.
She said the show came at the end of a demanding Australasian tour.
"You can understand he's spent a few weeks on the road singing at the top of his lungs, so unfortunately sometimes these things just happen."
All Tauranga tickets were fully refundable or fans could attend on Tuesday, she said.
That was cold comfort for Jo Clements of Rotorua. The keen fan and her sister, Fiona Wormald, had arrived outside the Tauranga show about 5.30pm and were part of the crowd chanting "Open the doors, open the doors".
They waited in front of the stage before heading out again at about 7pm, disappointed that Meat Loaf was a no-show.
"I can understand if he's sick, but I just think they would have known before 7pm," she said.
She couldn't go to Tuesday's show, but still loved his music.
In November 2007, Meat Loaf cancelled a European tour after a cyst was found on his vocal cords. His promoters were reported as saying he was suffering from "exhaustion and stress" at the time.