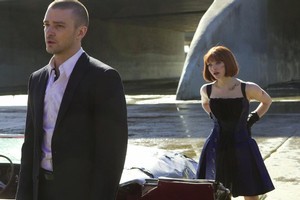 Justin Timberlake and Amanda Seyfried are a futuristic Bonnie and Clyde in this stylish sci-fi action thriller from New Zealand director Andrew Niccol. As you'd expect from Niccol, the writer/producer of The Truman Show and the writer/director of Gattaca, In Time is a thoughtful, slick and stylish film, which this time draws on issues like over-population, our obsession with staying and looking young, and the lack of time in our busy modern lives.
Niccol builds on the idea that time is money, and literally makes time the currency of the day. In Time sees people engineered to stop ageing at 25, at which point they have one year left to live - unless they can earn, steal or borrow more time. Everyone's destiny is worn on their arm, where a built-in digital clock counts down how much time they have before their body self-destructs. If you're rich you can live forever and look good doing so; if you're poor like Will Salas (Timberlake) then you live somewhere like the Dayton ghetto where life is very much day to day.
It's a clever idea and an obvious metaphor; the wealthy few control the supply of time, callously raising the cost of living in poorer areas while also making the ability to earn time more difficult. After Salas experiences first hand just how the rich get richer through the poor being expendable he decides to confront the system.
Gifted 100 years by a suicidal stranger, he heads to the wealthy district of New Greenwich, pursued by Timekeeper Leon (Murphy) who would like the "stolen" 100 years back. Salas takes a beautiful and bored heiress Sylvia (Seyfried) hostage, but when her wealthy father refuses to pay the ransom Sylvia decides life as a fugitive is preferable to her confined life at home.
The duo come up with a plan to rob the Time Banks owned by Sylvia's father and distribute the wealth to the poor. It soon becomes apparent though that time, like money, isn't always the answer, and to really instigate change they must pull off the biggest time heist ever.
Once the premise is laid down and Will and Sylvia are on the run In Time becomes mostly about the action, with the constant fear they will run out of time adding a sense of underlying tension to the fugitives-on-the-run storyline.
As ever with Niccol, style is as important as substance, and he takes a retro-futuristic approach to the look. The ghetto is full of decaying buildings but, ironically for this oppressed, it contains the only colour in the film, and as everyone is in a hurry it's got a lively and electric feel to it. New Greenwich, conversely, is muted in black, white and grey, and everyone goes out of their way to do things slowly, including the camera.
Timberlake and Seyfried look good and work well together and seem fitting for a film attempting to be a sophisticated piece of science fiction, a romance and a stunt-filled action adventure.
Seyfried deserves extra brownie points for never taking off her killer high heels, even when she's running for her life, and it would be fair to say Timberlake can now add action hero to his growing list of accomplishments.
Stars: 4/5
Cast: Amanda Seyfried, Cillian Murphy, Justin Timberlake
Director: Andrew Niccol
Running time: 109 mins
Rating: M (Violence & offensive language)
Verdict: Smart, stylish thoughtful sci-fi actionJustin Timberlake and Amanda Seyfried look good and work well together.
-TimeOut