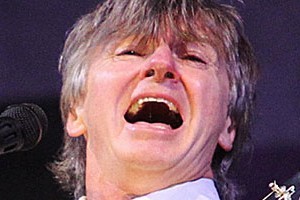 Neil Finn fans have backed the music icon after he had a spat with alternative music darling Ryan Adams during a live television performance.
The pair, alongside American folk singer Janis Ian, were performing during an episode of BBC's Songwriters' Circle, a show which sees singers sitting together on a stage helping out on each other's songs.
Adams has gone online to vent his frustration at Finn and Ian for playing guitar during his songs, thevine.com.au reported.
He also defended his decision not to help out on backing vocals on Finn's encore Fall at Your Feet.
"I was never asked to play on that song. It was not mandatory to play on each others songs and I was respectful to both Neil and Janis by way of listening and enjoying their tunes," he said in a blog.
"They played over almost every song I played. I found that odd and it nearly derailed Invisible Riverside.''
Adams said things got "ugly" when Finn started yelling to let him know he wasn't happy with his lack of participation in the backing vocals.
"My experience was we had a nice time till Neil started yelling at people on stage. That was when things got ugly. And, I'm sorry, I don't care who you are. If you yell at me, I'm not going to be nice back. Certainly not going to play after that," Adams said.
Finn fans have taken to Twitter to show their support.
New Zealand-based musician Dylan Storey tweeted: "Te he he - Ryan Adams refusing to sing BVs with Niel Finn. What a brat."
Julie Lenten said : "It's official. Ryan Adams is a self-absorbed sociopath.''
Carrie Raisler said: "Two of my favorite songwriters (and my fave female singer!) are fighting. GUYS THIS IS TERRIBLE.''
It's not the first time Finn and Adams have met.
The former Crowded House frontman let Adams use his New Zealand recording studio when he was in New Zealand in 2009, which the latter said was an "awesome'' experience.
"When we first came in and he (Finn) walked out of the control room I kind of pretended I didn't know who he was because I didn't want to freak out,'' Adams told TV One's Close Up programme.
It is not the first time someone has rubbed Adams up the wrong way.
He once left a strongly-worded message to American music critic Jim DeRogatis, who wrote a bad review about Adams' show, telling him "nobody's interested in your b*******''.
"You obviously have a problem with me, not with the music because you can't refute it because it's too f****** good and you know it.
"I think that you're incredibly petty and that you're obviously one of these guys that comes to gigs and just really bums people out. You just stand around with your f****** notepad and, like, you're just one of those people that don't belong anymore. And like you're probably old and you probably just need to retire.''
Neil Finn's manager said he was recording at the moment and would not be available to comment.
A spokeswoman for Adams' US publicist Nasty Little Man said he was on tour in Europe and unavailable for comment but she was "not aware of any fight'' with Finn.
Finn had only this to say on Twitter: "Well Songwriters' Circle on BBC will be interesting, watch out for lovely backing vocals on Fall at Your Feet from Ryan.''
Ian also joined the fray online, saying she'd never seen a show "go south'' like that before.
"I'm not sure what (Adams') problem was, but he would not sing the part he'd sung so beautifully in rehearsal _ in fact, he would not sing at all.
"I have to say that in 45 years as a professional performer, I haven't seen that kind of behaviour before.''
Check out footage from their performance:
- APNZ