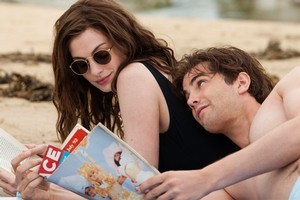 Author and screenwriter David Nicholls likes to get the most out of his novels; he's adapted all three for the big screen himself; Starter for 10 and The Understudy, and now One Day. Fans of the novel might find the film less successful than the book. What works as a clever literary device - catching up with our two main characters Emma Morley (Hathaway) and Dexter Mayhew (Sturgess) on the same day of the year for 20 years - doesn't work quite so well
within the confines of a film.
Amazingly, Nicholls and director Lone Scherfig (An Education) have managed to contain the story to 107 minutes, which is impressive considering there's 20 eventful years to get through. It does mean, though, that we only get a snapshot of the couple's intermingling lives rather than the full immersion.
Emma and Dexter meet on July 15, 1988 at their Edinburgh University graduation. She's a plain, witty, conscientious working class girl from Yorkshire; he's a hard-partying and self destructive toff. After a brief flirtation they settle into a friendship, supporting each other through doomed relationships and career ups and downs.
The editing has been particularly hard on Hathaway's Emma, with her character and storyline a stripped back version of the novel. Set against Sturgess' brilliant performance as Dexter, Hathaway relies on natural charm, warmth and intelligence which only gets her so far.
We can believe they're friends, but the sexual chemistry is missing.
The soundtrack, clothing, and settings are a blast, in particular for those of us who spent the 90s in our 20s. One Day is certainly more original, sassy and smart than the average formulaic romantic comedy, and its moving conclusion will likely induce a tear. It's just a shame Hathaway doesn't do for One Day what Renee Zellweger did for Bridget Jones's Diary.
Stars: 3/5
Cast: Jim Sturgess, Anne Hathaway
Director: Lone Scherfig
Running time: 107 mins Rating: M (Offensive language)
Verdict: A pretty good, fast paced, witty rom-com, less so if you've read the book
-TimeOut