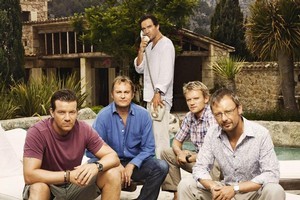 Just as SoHo seems to have cornered the market on bloke-powered crime drama, up pops this testosterone-heavy Brit saga about five chaps who have to put aside their various mid-life crises to deal with murder and mayhem in Spain.
Screening on the same night as the Soho launch and originally made for Britain's Sky TV, the four-part Mad Dogs series stars the Life on Mars double act of John Simm and Philip Glenister, as well as Marc Warren, Max Beesley and Ben Chaplin. Chaplin plays well-to-do property developer Alvo, who has invited his four 40-something mates from England to enjoy his largesse at his Spanish villa.
Each of the quartet is dealing with their own demons - divorce, alcoholism, or just finding out that their lives hadn't quite turned out as they had hoped.
But their boozy reunion goes very wrong. Soon they're stuck in a nightmare involving murder, a large amount of drug cash, a corrupt local constabulary and a small man with a big gun disguised as Tony Blair.
The Guardian says Mad Dogs comes with "the white heat of Sexy Beast, Shallow Grave's divisive bag of money and the quasi-comic violence of a Coen brothers film". It's also a story about blokes getting a bit past their prime. Says its director, Adrian Shergold: "I loved the idea of four middle-aged men going to see a friend, momentarily living a dream they couldn't live any more. They had to be lads, but I didn't want it to be a laddish film. It's about men who are at the point where they can't quite do what they used to be able to do. There is a vulnerability about them."
The series came about after the actors, minus Chaplin, expressed interest in doing a TV project together. One Coen brothers-influenced script and a Spanish location later, they had their series.
It delivered high ratings when it screened in Britain earlier this year, giving its backers good reason to commission a second season.
When: Monday, 10pm
Where: TV One
What: Holiday from hell
-TimeOut