Sky TV's new SoHo channel delivers some of the smartest TV from HBO and other heavy-hitters in small screen drama from next week. Here's a preview of the new shows on offer ...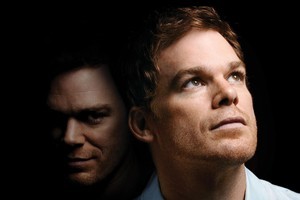 Michael C. Hall continues to star as a forensic scientist who moonlights as a vigilante serial killer in Dexter's sixth season. Photo / Supplied
New shows:
Treme
This sprawling, colourful and musically vibrant series from the creators of The Wire (and starring some of its cast) begins in New Orleans three months after the devastation wrought by Hurricane Katrina and follows the struggles of a selection of residents trying to get their lives and their city back on track. SoHo starts with 2010's first series. A second and third are on the way.
In Treatment
Based on Israeli series BeTipul, this has Gabriel Byrne as a New York psychologist, with each episode featuring a weekly encounter with one of his patients - or with Byrne's Paul Weston going to see his own clinical supervisor and psychotherapist, Gina, played by Dianne Wiest.
How to Make It In America
From the producers of Entourage, this hip series follows pals Ben and Cam, hustling to get ahead in New York's street fashion scene.
The Killing
An American remake of the Danish miniseries Forbrydelsen, this shifts the murder to the Pacific North-West, where the victim is Seattle teenager Rosie Larsen. The 13-part series comes with a deliberate pace and emotional intensity as its narratives follow the detectives on the case, the victim's family and a local political campaign with connections to the case.
Hell on Wheels
Due to start screening in the US early next month, this AMC series is set in the Old West of 1860s It follows Cullen Bohannon (Anson Mount), a former Confederate soldier out to avenge the murder of his wife, which leads him to the lawless town that moves with the construction of the transcontinental railroad. Rapper-turned-actor Common plays a recently freed slave.
New instalments:
Rescue Me
SoHo is screening the fifth season - of seven - of Denis Leary's post 9/11 drama. Leary stars as New York firefighter Tommy Gavin who is struggling with the loss of his best friend cousin in the World Trade Centre attacks and his ex-wife taking up with an unemployed, wheelchair-bound, pill-popping alcoholic - played by Michael J. Fox.
Dexter
It's the sixth season about the Miami Metro Police Department forensic scientist who moonlights as a vigilante serial killer targeting criminals. This time Michael C. Hall's Dexter must deal with a killer whose murders have religious overtones.
Weeds
Mary-Louise Parker returns as dope-dealing mum Nancy Botwin in the sixth season of seven of the black comedy. But now she's escalated from being the neighbourhood pot dealer to being on the run with her family from a Mexican drug cartel.
The reruns:
Six Feet Under
The five seasons of the Los Angeles family funeral home drama created by Alan Ball - writer of American Beauty before and True Blood since - which began in 2001.
The Sopranos
The groundbreaking HBO series about the New Jersey mob family, which began in 1999 and ran to six award-winning seasons of Tony Soprano (James Gandolfini) battling his demons, relatives and mafia rivals.
Entourage
Now in its final season in the US, this 2004-born series chronicled the rising Hollywood career of actor Vincent Chase (Adrien Grenier) who brought his childhood friends from New York City to Los Angeles to enjoy the ride.
Mad Men
The channel heads back to the 2007 opening season of the acclaimed drama set against 1960s Madison Ave advertising agency Sterling Cooper which has been playing on Prime in past years. The fifth season is in production and will likely to screen here in mid-to-late 2012.
True Blood
It's back to the 2008 first season of the blood-lusty series about how vampires' "coming out" affects things in the quiet southern backwater of Bon Temps, Louisiana, and in particular how it changes the life of local waitress Sookie Stackhouse (Anna Paquin), drawn to the gentlemanly but heavily fanged Bill Compton (Stephen Moyer).

The Wire
SoHo offers a chance to see (again) arguably the best TV drama of the era, starting with its 2002 first season (of five) set on the streets and halls of power in Baltimore. The Wire was created by former Baltimore reporter David Simon and ex-detective Ed Burns, based on their experiences.
-TimeOut