As Prohibition period drama Boardwalk Empire starts a second series, the makers can safely say their risk has paid off, writes Hamish McKenzie.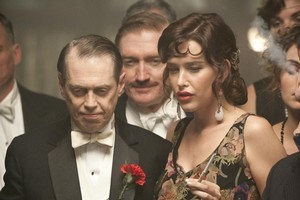 As a lavish television series set against America's bad old days of bootleg liquor and speakeasy gambling dens, Boardwalk Empire itself took bit of a gamble.
The first series bet big - its pilot episode, directed by Martin Scorsese (who now serves as an executive producer), was the most expensive in TV history, clocking in at US$18 million.
But with a cast led by Steve Buscemi as notorious Prohibition-era Atlantic City politician, Nucky Thompson, Boardwalk Empire's first season enjoyed an outstanding debut season, which saw it pick up two Golden Globes, 18 Emmy nominations, and an audience, according to HBO, of 10 million viewers per show across all broadcast platforms.
"What we did was show the community that period dramas are safe," says Boardwalk Empire creator Terence Winter, on the eve of the second season premiere.
"I think there was a thought that people didn't like period dramas - anything with costumes or things that weren't a reflection of their current society," says Winter.
It was indicative of a Hollywood-knows-best mindset that's not necessarily grounded in reality. "For years people thought there's no way a pirate movie would work - people just don't like pirate movies." Then Pirates of the Caribbeans came along, and, says Winter, Hollywood had a realisation: "Yeah, apparently they do like pirate movies".
Winter, who was one of the lead writers on The Sopranos, says the success of the first Boardwalk season was a great relief. "It's thrilling to see people respond in the way that you hope they're going to respond. As we were creating it we of course all felt really good about it, but you never know how things are going to be received until they're on the air."
The second season of Boardwalk picks up where the first left off. Treasurer Nucky is now living in a de facto marriage with Margaret Shroeder (Kelly Macdonald) and her two kids, with the tin-masked war hero Richard Harrow (Jack Huston) as live-in protection.
Nucky's young hit man Jimmy Darmody (Michael Pitt), meanwhile, has joined forces with Nucky's jealous brother Eli (Shea Whigham) and Commodore Louis Kaestner (Dabney Coleman) in a conspiracy to usurp the treasurer's power. Other sub-plots see Chalky White (Michael K. Williams) striking serious trouble with the Ku Klux Klan, and crusading Prohibition enforcer Agent Van Alden (Michael Shannon) juggling a pious marriage with a secret life with his pregnant mistress, Lucy Danziger (Paz de la Huerta).
For Winter, it is such deep diving into sub-plots and characters that is the greatest luxury of TV story-telling. "You really get to dig very deeply into the characters and who they are," he says. "Because we've set up these characters in season one and now you know who everybody is, we have the chance now to really learn more about them: where are they from, what do they think about things."
Winter holds up mob leader Al Capone as an example. In most movies, Capone is depicted as a ruthless and violent thug. "We get to spend a lot of time with Al Capone as a person - he's got a kid, he's got a wife, we see him interact with these people. You'll see him kill a lot of people, too, but you get the full person."
British actor Jack Huston - grandson of director John and nephew to Angelica - has noticed a trend where TV is crossing over into movie territory. "I feel like people stopped being so courageous or daring in movies, which I think now they're doing in TV more," says Huston, whose Richard Harrow character has been upgraded from recurring player to a regular cast member.
Harrow made his entry into the Empire saga midway through last season, with a half-mask of flesh-coloured tin shielding the side of his face that had been blown off in the trenches of World War I. Fellow veteran Jimmy Darmody took him under his wing and back to Atlantic City, where Harrow, a tender man transformed by the war into a crack marksman, found renewed purpose as part of Darmody's outlaw liquor ring and, when called upon, a cold-blooded killer.
Like much of Boardwalk Empire, the Harrow character is based on fact.
By World War I, "battlefield medicine had become more advanced," says Winter, "and there were an inordinate number of face and head injuries suffered by men who, 20 years earlier, would have died. A lot of men were coming home from the war with horrific facial injuries.
"We said, 'what a great character this would be'."
"The character took on a life of his own," says Huston.
LOWDOWN
What: Boardwalk Empire season 2
When: Sundays 8.30pm from November 6; Encores Tuesdays 9.30pm
Where: SoHo, Sky Channel 010
-TimeOut / Additional reporting AP