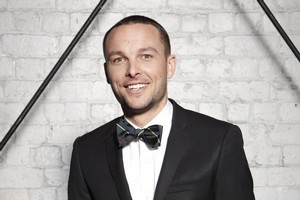 Friday night drinks? Meet me at: Home with my mates - "Shouty" Ben, "Hit on Everyone Else's Missus" Ben and "Recycle Jokes about Drinking Ads" Ben.
Where I'll be wearing my new: One-piece jump suit I ordered from the States. It zips right over my head for the full "douchebag" look.
And this weekend I'm planning on: Watching Kiwi actor Karl Urban star in The Wiggles in Space movie he did and trying to work out why they keep calling Jeff Sulu.
But first I'll need to refuel at my favourite cafe: I'm going to answer seriously and say The Corner Cafe in Point Chev as I'm hoping I'll get free coffee for life.
Saturday evening. If my dreams came true there would be a gig by: The Pussycat Dolls but due to sound problems, they wouldn't be singing.
But if there's nothing else doing I'll probably just: Make up tweets so people think my life is much more exciting than it is.
On my stereo/headphones right now is: Westlife Flying without Wings - which is why I'm not listening to it.
The books I can't put down are: The Very Hungry Caterpillar and Hairy Maclary are the only books I read these days. Sometimes I even read them to my daughter.
The TV show I take the phone off the hook for: WANNA-BEn because I like to call up and complain to TV3 while that crappy show is on.
The movie I've been dying to see: Watching 127 Hours backwards. Apparently then it's a lovely film about a disabled man finding an arm in the desert.
A non-cooking Monday night means takeaways from: Nandos, which is good like KFC but without the post-meal regret.
Or a splash-out Wednesday night restaurant would be: Really nice. What time you picking me up?
*Boyce co-presents the Vodafone New Zealand Music Awards with Shannon Ryan next Thursday.
-TimeOut