R&B singer RIA loves the whole musical process, from writing to performing to recording, and can even get a bit Diva-ish in the studio, writes Scott Kara.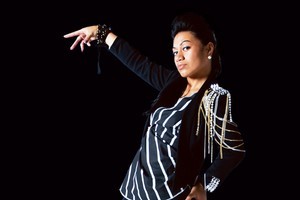 When up and coming R&B soul sister Ria Leilua - you can call her RIA - sits down to write a song, it often comes out more like a short story. Or an essay, as the 21-year-old describes it.
"I just have so many ideas in my head, I like to explain every detail, and make it in-depth. Growing up I was on a singer-songwriter tip, with verses and choruses and bridges, but in this pop music industry you hardly ever even have a bridge in a song," she laments.
"But I like to making everything rhyme too," she says with a cute, light-hearted laugh.
Though rhyming is a prominent pop music trait, long and involved stories are not (unless you are prone to writing R&B operas like American smoothie R Kelly). So because she's now in the business of making pop music she pares back the songs to the essence of what she is trying to get across.
Like on Over You, her single from earlier this year, about being totally over a boy, of course.
"Handle the fact that you make me wanna sing ... you make me see that without you I'm a queen," she sings with a hint of glee.
"It was written based on an experience but wasn't written directly to one person ... it was a bit of a risk for me though."
She's not naming names but says there was a lot of speculation around who it was about on the internet. "When it first came out I read a lot of stuff like, 'We know who this is about ...' and people claiming it was about so and so, and it was what I expected to be honest, and so I read it and then just brushed it off."
Songs like Over You and the swinging and twitchy All My Ladies are catchy, R&B pop fodder, but it's her voice that stands out with its low, almost steely lilt akin to Rihanna.
She grew up singing in church, formed girl band Vivah with a group of school friends and took out the Smokefree Pacifica Beats competition - an offshoot of the annual Rockquest - in 2007. "I've always wanted to do music because I grew up with it in church, and I was always in choirs, but I've always wanted to get into music and production and performing so [Vivah] was my first taste of that."
She says as a 17-year-old being in a group was a good, supportive first step, because going solo was daunting - and one she's still getting to grips with.
"In my head I was like, 'No way am I ever going to go solo'," she laughs.
To hone her musical ears and production skills she studied at Auckland's Music and Audio Institute of NZ (Mainz), and now tutors singing at the Otara Music Centre. Last year she signed to indie record label M4U Records, also home to eccentric soul funketeer Stks.
But, she says, she's in no hurry. Her plan is to keep releasing singles and then put out her debut album sometime next year.
Though she has people guiding her career, and the knowledge and the skills of producers behind her in the studio, Leilua insists she's got her own destiny by the scruff of the neck - and is plotting her own future in the music business.
"I'm pretty fussy, and I overthink things sometimes, and in the studio I'd say I get the majority of the say. But at the same time, sometimes I don't get my own way," she jokes.
"I've got this mentality that I'm never going to be a little doormat, and normally I'm actually quite shy, but when I go into the studio I know what I want and what I record is going to stick with me forever, so if I don't agree with it, and like what it sounds like, then I've got to say something."
LOWDOWN
Who: RIA
What: Pop R&B soul singer
Where & when: The Mixer 2 Concert, October 28, TelstraClear Pacific Events Centre, Manukau with Three Houses Down, Anonymouz and the Hypnotics, K One, Tyson Tyler, Pieter T, DJCXL, and more as part of the South Side Arts Festival.
-TimeOut