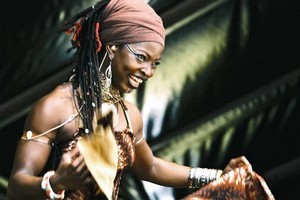 A serenading, yodelling and fleet-footed dancing diva from the Ivory Coast, a group of disabled street musicians from central Africa, and a blind Aboriginal singer-songwriter are three of the highlights at next year's Womad festival in New Plymouth.
And also playing the March 16-18 event at Bowl of Brooklands are the Master Drummers of Burundi, who return to New Zealand after playing the 1999 festival at Aotea Square, improvisational Palestinian group Le Trio Joubran and shin-shattering dub musician Mad Professor.
One not to miss is dexterous vocalist and dancer Dobet Gnahore, who combines her West African-Ivory Coast musical roots with the French influence of her guitarist, co-songwriter and partner Colin Laroche de Feline, to create celebratory, butt-shaking grooves.
Also from Africa are Staff Benda Bilili, a group of musicians handicapped by polio, who ride customised tricycles and live and play music on the streets of Kinshasa in the Democratic Republic of Congo; their sound ranges from a frenetic rumba din to a swinging, soulful party mood.
Returning is blind aboriginal musician Gurrumul - who played in New Plymouth in 2009 - contemporary reggae nine-piece Groundation from California, and eccentric French one-man band Chapeleir Fou, who fuses his trusty violin sound with loops and other electronic wizardry.
Local stars include Neil and Sharon Finn's Pajama Club, super-group-of-sorts the Yoots, led by Fat Freddy's Drop trombonist Joe Lindsay, reggae stalwarts the Black Seeds, 10-piece Brazilian-inspired Batucada Sound Machine, and electro-dance act Minuit who collaborate with Gamelan Taniwha Jaya, an Indonesian music ensemble out of the NZ School of Music in Wellington.
Other international acts are Shivkumar Sharma, an Indian master of the 72-string, dulcimer-like santoor, Romanian funk-playing gypsies Mahala Rai Banda, and China's Anda Union who draw on their Mongolian roots.
As well as music across seven stages, the festival also includes artists in conversation, musician-led workshops, a global village, live cooking demonstrations, and a kidzone.
Earlybird tickets are on sale now at Ticketek until November 11. For more information and the full line-up go to womad.co.nz.
-TimeOut