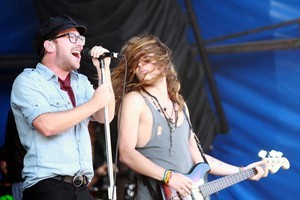 MUSIC
If you're not out trick-or-treating on Saturday evening, or getting freaky with Meatloaf at Vector Arena, there's a couple of large local Halloween events to get dressed up for.
Zombie Prom, which is on at The Powerstation features The Drab Doo Riffs, 1995, Mellow Grave, O'Lovely and several others, and the line-up at the Cheese on Toast Halloween Party at Whammy Bar and Wine Cellar includes Tourettes, Panther and the Zoo, Tono, $noregaZzZm and X-Ray Fiends.
Other gigs on this week that don't require a costume include Auckland rock lads Midnight Youth launching their sophomore album World Comes Calling at The Powerstation on Friday night, and rock-chick Gin Wigmore launching her sophomore album Gravel & Wine at The Kings Arms on Tuesday evening.
MOVIES
Keeping with the Halloween fun, the aptly named Fright Night opens this week. A remake of the 1985 Tom Holland horror comedy, the updated 2011 version stars Colin Farrell, doing a spell-bindingly good turn as a vampire who's slowly stalking, kidnapping and killing the teenagers of a Las Vegas suburb.
He moves in next door to geek-turned-popular-guy Charlie Brewster (Anton Yelchin), who becomes suspicious after witnessing some odd behaviour, and soon realises he's going to have to stop this monster himself. Tremendous fun.
Also being released are British teen buddy comedy The Inbetweeners, French star Audrey Tatou's new rom-com Beautiful Lies, and Kiwi director Andrew Niccol's philosophical futuristic thriller In Time, starring Justin Timberlake and Cillian Murphy.
TV
There's also a fair bit of creepy Halloween action on the telly, with Four dedicating its Monday night line up to Halloween episodes and movies, and TV2 doing similarly.
Sky's new drama series channel SoHo launches on Monday as well, and TV One inadvertently gets in on the spooky Monday action with the One News 2011 Election Leaders Debate at 7pm. John Key and Phil Goff don't really need costumes.
OR ...
There's a bit of a parade of cult figures dashing through town this week with the annual Armageddon Expo on at the ASB Showgrounds from Friday to Monday (perhaps a good place to scope out possibilities for your Halloween costume while you rub shoulders with movie and TV stars, or watch the live wrestling) and kooky American shock auteur and film maker John Waters brings his comedic conversational show to The Civic on Wednesday evening.
Or if you're looking for kid-suitable activities, the Auckland Museum will be open on Saturday and Sunday night from 6pm until late and Halloween-goers will be free to roam the unlit galleries among an unusual line-up of ghouls and spooks including Ursula the witch, a vampire, the Grey Lady ghost, Miss Melissa and her crazy divination station and Brian and his live creepy crawlies.
-TimeOut