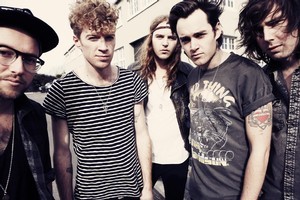 Anthems like All On Our Own and The Letter have made radio darlings of Midnight Youth and secured the band a lifelong spot on adult-contemporary playlists around the country.
It's a cosy place, which the five-piece has seemingly been happy to occupy since the phenomenal success of their 2009 debut album, The Brave Don't Run. But as their second record, out tomorrow, reveals, the lads from Midnight Youth aren't content with just that.
World Comes Calling sees the Auckland-based band embracing stadium rock. "It's a heavier album," confirms guitarist Simon Oscroft.
"We had less inhibitions to be heavier because we are more confident in our musicianship now," he explains.
"On our first album we weren't ready to let ourselves go. It was a more subdued album.
This is more extroverted."
And so, Oscroft's guitar work and Aiden Bartlett's drumming are more prominent than ever on songs like The Street, Who Said You're Free and the album's title track. But it's Jeremy Redmore's classic-sounding rock vocals that seal the deal.
"For us, it's a festival-rock set," says Redmore. "You close your eyes when you're writing and you imagine yourself in that setting."
Not that Redmore needs to dig too deep into his imagination. Midnight Youth has proved they know how to move a crowd, playing a stomping set at the 2010 Rhythm and Vines festival and winning over a massive audience on the main stage at that year's Big Day Out.
These moments have clearly inspired the big-sounding World Comes Calling.
Now all that remains to be seen is whether Midnight Youth can successfully pull off its transition to fully fledged rock 'n' rollers.
Both Redmore and Oscroft are convinced they can. And they are confident they will pick up more than a few rock converts along the way.
"Bring back rock 'n' roll to the kids," laughs Oscroft.
"We want them picking up guitars, not listening to Justin Bieber at 18, and all with the same haircuts. Get your mates together and start a band. It's way more bad ass."
Midnight Youth's second album, World Comes Calling, is out tomorrow.