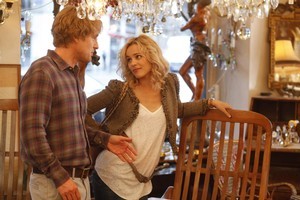 Woody Allen continues his sojourn in Europe with another romantic comedy, starring Owen Wilson as a fresh spin on Allen himself.
With a stellar cast of famous artistes from the 1920s, including F. Scott Fitzgerald, Ernest Hemingway, Gertrude Stein, Pablo Picasso, Josephine Baker and Edgar Degas, Allen weaves a spell over Wilson's struggling writer Gil. He also does a fairly good job casting his spell over the audience, too.
The strength of Allen's films is his writing, so it's appropriate Gil is a movie writer wanting to make his mark as a novelist. He's there with his unsympathetic fiancee Inez (Rachel McAdams). Although Wilson seems to be mimicking Allen's speech patterns and "golly gee" demeanour, he makes an American any Parisian would welcome. Gil's wonder and purity are engaging, although the romance that develops between him and Adriana (Marion Cotillard) is as flimsy as a flapper's gown.
Allen's message that the best time is the one you're in right now isn't revolutionary but it resonates with the right degree of whimsy and poignancy.
We get to revel in the past alongside Gil, equally imagining where our happy place might be. Some elements of plot are left wanting, and most of the characters and characterisations are a little thin on the ground, but the film shows a side of Allen that seems to be mellowing nicely with age.
MIDNIGHT IN PARIS
Rated PG; 94 minutes. Out now