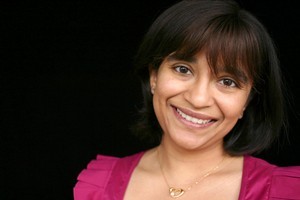 Aucklander Nalini Singh is a best-selling author of paranormal romances. Her most recent is Archangel's Blade (Gollancz $29.99)
The book I love most is ... There are so many books I love and reread, from emotional romances, to sprawling science fiction and fantasy books, to stories written in centuries past (particularly the 19th), to gritty thrillers ... I think the truest answer is that I, quite simply, love books.
The book I'm reading right now is ... Cold Touch by Leslie Parrish. It's a dark and sometimes disturbing series, but also very compelling.
The book I'd like to read next is ... My To-Be-Read list is crazy-long, but at the top is Heart of Steel by Meljean Brook. The book is part of a steampunk romance series that I absolutely love, set in a Victorian England where the population has been infected with nanobots. It's awesome. I can't wait to dive into it! After that, I'll probably pick up one of these: Germline by T.C.
McCarthy, Chasing Fire by Nora Roberts, The Army Ranger's Return by Soraya Lane, or What Alice Forgot by Liane Moriarty.
The book I wish I'd never read is ...
I most often have the "I wish I'd never read this" reaction to a book in a series that does something terrible to a beloved character. I'll accept that if it is integral to the story. What I won't accept is when that death/terrible event seems to be used only for shock value, because then, it makes me lose trust in the author.