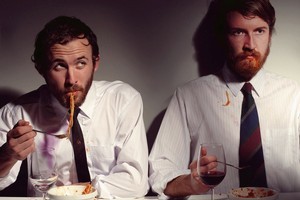 The Fabulous/Arabia project, which finds James Milne, aka Lawrence Arabia, writing saucy, witty lyrics over the top of some fine, fruity music by Mike Fabulous aka Lord Echo (and also The Black Seeds), began as a musical penpal relationship.
What started with Fabulous sending Milne roughly 30 tracks of musical beds he'd made on his own has blossomed and been honed into a dreamy 10-track album rooted firmly in funk, afro-beat and a little bit of soul, while also showcasing Milne's (sometimes falsetto) vocals, which range over topics as diverse as the issues of eugenics, the delights of an unlimited buffet and divorcees from Toronto.
It sounds like effortless fun, swinging with nostalgia for the 60s, 70s and 80s without ever being a pastiche, despite the over-arching raised eyebrow of irony. "I was looking for twins, or at least similar looking sisters," he sings with a wink on Give Me Love Tonight, a twinkling ballad about that eternal search for happiness; while Perm is a scandalous hairdo homage, all deeply grooving synthesisers and falsetto that almost verges into Flight of the Conchords territory.
Eugenics however is a brilliantly barbed deconstruction of middle-class life. "It's been too long working on our collection, swapping low cards for aces, to see that perfect house of cards fall in a storm of social disgraces," Milne sings in unexpectedly lilting tones over the top of meandering funk lines. And that's one of the best things about this record, how well the unexpected pairing works.
Stars: 4/5
Verdict: Brilliant unexpected pairing of ironic falsettos and swinging funk
Buy the album here.
-TimeOut