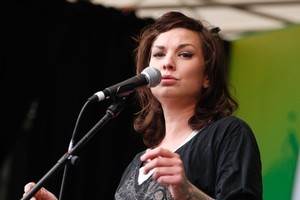 MUSIC
Queens Wharf is putting on a gigantic selection of live music this weekend, both at The Cloud and on the main stage. Highlights include the NZ Songbirds night on Thursday, featuring Hollie Smith.
Rock royalty Shihad, The Earlybirds and The Datsuns all play on Friday night in the warm-up to the RWC bronze final, with funk/soul/electro three-piece Electric Wire Hustle on afterwards; and Sunday is a veritable smorgasbord of Kiwi talent with Avalanche City, Cut Off Your Hands, The Checks, Kids of 88 and Gin Wigmore providing the entertainment around the final.
And seeing as Monday is a holiday, Fonterra are throwing the free Kiwi Day Out festival at Auckland Domain from midday to 6pm, featuring Dave Dobbyn, Evermore, Stan Walker and the Patea Maori Club.
TV
Well, there's only one event that's likely to have more than half of New Zealand watching this weekend, and that's the RWC final on Sunday with coverage on TV One, TV3, Maori TV and Sky Sport from 7pm (2.2 million of us tuned into the semi-final, so there's good odds).
Also coming under the "fun and games" heading is James May's Toy Stories: The Great Train Race, on Monday, TV3, 7.30pm. Continuing on from the original Toy Stories series, May has a second attempt at building the largest ever model railway track - 16km long - and racing various built-to-scale model trains along it.
And a five-part PBS documentary series, We Shall Remain, begins on Maori TV on Tuesday at 8.30pm, telling the story of European settlement of North America from the perspective of the Native American inhabitants.
MOVIES
Woody Allen returns to form with Midnight in Paris, which opens today. It stars the endearing Owen Wilson as a rising Hollywood screenwriter, and a somewhat dislikeable Rachel McAdams as his social-climber fiancee, on holiday in the city of love, with her annoying, wealthy, prejudiced parents in tow.
Stumbling round, slightly drunk on his own at midnight, through some stroke of magic Wilson is transported back to Paris of the 1920s, and becomes ensconced in the cultural and literary worlds of Gertrude Stein, Ernest Hemingway, Zelda and F. Scott Fitzgerald, along with Cole Porter, Picasso, Dali and Bunuel and the bohemian crowds surrounding them. Delving into questions of romanticism, nostalgia and existentialism, it's a delightful exploration complemented by a star-studded cast.
Also starting today is the British doco-styled road-trip buddy feature The Trip, starring Steve Coogan and Rob Brydon as themselves, sort of. The pair reunite with Tristram Shandy director Michael Winterbottom for a hilarious traverse of fine dining establishments throughout the Lake District and Yorkshire Dales. Mostly improvising, they have great comic chemistry, doing impressions, imparting wisdom and tasting food in a constant contest of one-upmanship.
OR...
Go and check out the free Performance Arcade installations set up in shipping containers in Aotea Square. Open from noon-8pm daily, there are seven interactive presentations/installations to take in. Our favourite is the two young men on bicycles powering an old record player, which pumps out classic tunes. A printer is hooked up to the laptops at which they type while cycling, producing 101-word thought-provoking pieces on art, love, the environment and life.
-TimeOut