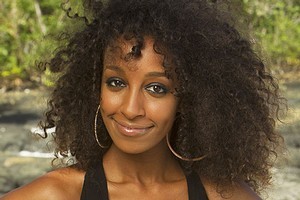 Semhar Tadesse, the first victim from Survivor: South Pacific, says she's mad at the reality show's producers for making fun of her poetry skills.
The 24-year-old Los Angeles poet was seen with her head bowed and spouting line after line of rhyming couplets before her Redemption Island dual against Christine Markoski.
She lost and was eliminated, but told nzherald.co.nz the show's producers had told her to recite poetry to calm her nerves before the challenge - and then edited it to make her look weird.
"I wasn't happy with the way I was portrayed," Tadesse said. "It made a mockery of the art that I respect a lot and have been doing for 10 years now."
Tadesse encouraged viewers to go on YouTube and search for her poems, some of which were partially recited on the show.
"Those were poems I wrote long before I ever went on Survivor. I was told to recite some of them and that bit me in the butt afterwards ...
"You have to laugh, it's reality TV."
She believed she was eliminated because of her performance in her tribe's immunity challenge, in which she offered to shoot coconuts into a giant bag but got tired and couldn't hack the pace.
"I understand the target that I placed on my back. What you don't see is that we actually turned to Jim to ask him to shoot the coconuts in that challenge. He said no and that's when I stepped up.
"As I found, stepping up is not a good idea if you can't handle the job.
But she defended her performance, saying she is definitely sports-minded and could have competed properly if she wasn't so exhausted.
"I have played sport and basketball is one of my favourite sports. But do I do that after not eating and being dehydrated? And in extremely humid weather? No. I stepped up becuase no one else was going to."
She urged her tribe mates to send their experienced leader Oscar Lusth home before he did what Boston Rob did last season and started controlling their every move.
"People's heads are not where they need to be. If no one's looking at voting him out first, I think Ozzy will definitely have a hold over these people.
"I'm backing him to win."
* Survivor: South Pacific screens on Four every Wednesday evening. nzherald.co.nz will interview every contestant after their elimination.
- Herald online