The Cup by Dan Cleary
The Cup Productions $20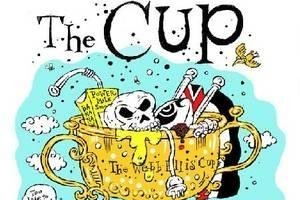 Dan Cleary is one clever guy - actor, writer, producer and someone who doesn't mind poking the borax. He is, of course, a stoic All Blacks supporter and a lover of all things rugby. In this vein, one of his many triumphs is his stage play, The Cup, which was shortlisted for the Playmarket Adam New Zealand Award and is the foundation of this adapted paperback.
Littered with terrific illustrations by Trace Hodgson, it's a surprising missed opportunity by a film production house to have made it into a television series to coincide with the RWC. Cleary has fictionalised the staging of this event through its organiser, Baldy.
As you can expect, getting the giraffe on its legs is a mammoth undertaking and Cleary takes us on an easy-read, slapstick joyride the full length of the field. From selecting the very grass to ruck and maul upon, there's the stadium taniwha, the missing Webb Ellis Cup, buried skulls and the dealing with sponsors. And of course, the insatiable media and inevitable choke.
Rod Emmerson is the editorial cartoonist for the Herald.