Having a Ball — A Cartoon History of New Zealand Rugby by Ian F. Grant
New Zealand Cartoon Archive $24.95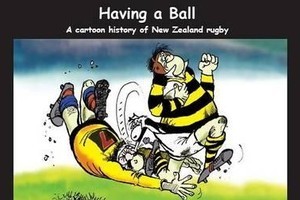 To state the bleeding obvious, we can be a nation of blunt-ended rugby fanatics. As 1987 All Blacks captain David Kirk quips in his foreword of Ian Grant's book Having A Ball, "it's part of the rhythm of life, and long may it remain so".
No nation on the planet is as well-versed on rugby as we. Everyone from prime ministers to prime suspects has an opinion. Hence, the World Cup coming to our goal-posted shores has flushed out three books that cast a droll eye over this bone-crunching pursuit. Thankfully, they are proof that we do have a sense of humour when it comes to our sporting religion.
You can safely bet anything historian and writer Grant lays his hands on will be valiantly researched and painstakingly assembled into a benchmark. Having A Ball is more than a treasure trove of NZ rugby history in clever cartoons. This is a manual to keep within arm's-length, when you need to clarify those niggling moments during 140 years of passing the ball. The All Blacks began the tradition of using the Ka Mate haka in 1905, but which haka was used in the 10-game series played in Australia in 1903?
Having A Ball also reminds us of when political sideline brawls ended up in the middle of the paddock, like the hefty Springboks tour.
All our favourite cartoonists are well represented, from Minhinnick to Slane to the wonderfully puffed trout, Bromhead. It's worth buying just for a leisurely smirk at the cover - a classic Murray Ball Footrot Flats scene of Wal running with the ball.
Rod Emmerson is the editorial cartoonist for the Herald.