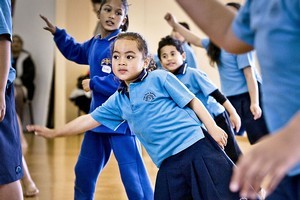 A festival atmosphere pervaded the Aotea Centre as Sacre: The Auckland Dance Project showcased the achievements of 190 youngsters under the direction of British choreographer Royston Maldoom, dancing to Stravinsky's The Rite of Spring, played by Auckland Philharmonia Orchestra under Eckehard Stier.
Before interval, local kapa haka group Te Pou Whakairo offered a short, elegant presentation, mixing taonga puoro and song in what seemed like chamber waiata alongside the football-field gusto of the Te Matatini competitions.
The orchestra then fronted up with Gareth Farr's From the Depths Sound the Great Sea Gongs Part I. Sixteen years after its debut, this work's drama seems as much a matter of decibels as anything else. Farr's sometimes simplistic ra-ta-tat rhythms and easy harmonies made one impatient for more pungent Stravinsky to come.
Even without the dance component, the APO's high-powered account of The Rite of Spring would have been reward enough; a palpably thrilled Stier inspired gutsy precision when Stravinsky punched his way from metre to metre and drew particularly delicate traceries from the orchestra's woodwind section.
Playing in front of the stage rather than in their usual concert position, the musicians caught the excitement of Stravinsky's original theatrical intentions.
Maldoom's choreographic conception followed a South Pacific voyage from The Arrival (Te Taenga Mai) to The Separation (Te Wehenga).
Launching the piece with the spectacular vision of a human waka traversing an ocean of undulating human waves, he was endlessly inventive with his writhing, zooming and bouncing charges.
The stage often seethed with the energy of it all. Criss-crossing dancing lines, thanks to Vanda Karolczak's side lighting and the complementary hues of Marama Lloydd's costuming, created the illusionistic flicker of a kinetic artwork.
One inspired scene, honouring the ancestors, saw a large blue dropcloth transformed from being a ceremonial lava lava under a chiefly dancer to a primeval cocoon, pulsating with the restless movements of the dancers concealed within.
Royston Maldoom and this project will leave their legacy on all who took part in it. Its impact will extend well beyond those 30 or so minutes in the Aotea Centre, so breathtakingly delivered that one regrets this was its only public performance.
- Herald online