Great Gardens Of Italy by Monty Don & Derry Moore
Quadrille $49.99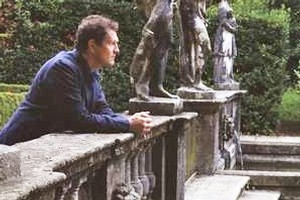 When the sumptuous Great Gardens of Italy series recently screened here, you couldn't help but notice quite a few shots of its host, British garden guru Monty Don, staring pensively out at the scenery, chiselled chin on hand. In hindsight, it's kinder to assume he was trying to stop his jaw from dropping, such was the beauty, history, extravagance and sheer dottiness of the gardens he explored on behalf of the viewers.
The series was terrific but, like all television, its pleasures melted away with the final credits. This accompanying book - with photos by Derry Moore - offers a far more potent tour of gardens from Naples in the south through to Rome, the province of Viterbo, plus the Tuscan, Veneto and northern Lakes regions. Don visited 30 gardens in total, some of which he had seen before but most of them were unfamiliar and a handful are never open to the public, so the series-book provide a real privilege.
These Italian gardens are so enchanting, you'd think it would be a dream job to work in them. Not so - for Italians, anyway. They consider the work too menial.
"As I visited more and more Italian gardens, I realised that the popular culture of gardening has almost disappeared from modern Italy," Don writes in the introduction. Head gardeners in private gardens are mostly foreigners, while it has to be a last resort for an Italian to take a job in a state garden, meaning some important gardens "constantly simmer at the edge of unrest".
Nevertheless, the gardens featured in the book are nurtured by people who love them, people like Pepino and his 85-year-old mother Rita who have a 4ha terraced smallholding northwest of Naples called Villa Il Tritone, sitting above the remains of a Roman villa washed away when Vesuvius erupted in 79AD.
Don takes us through Villa Il Tritone's history - William Waldorf Astor bought it in 1905; Rita in 1973 - and his sparkling and evocative prose walks us through the garden. He ends with lunch, which he records in every detail: the food, the cloudless bay, the boats, the wine, the limoncello ... even the biscuits.
"I bit in. Angels sang. Stars shot through the universe tumbling for joy ... only to be polite, you understand, I only ate five biscuits and only had the two glasses of limoncello."
That's just the first stage of what is about to unfold: a history of the land in the form of canals and fountains, palaces and ruins, papal and political power plays and displays, the control of water, the dominance of topiary ...
Midway, Don visits a wild topiary-free garden full of colossal sculptures called Sacro Bosco (Sacred Wood) near Bomarzo, north of Rome. Sacro Bosco is "a perfect icon for surrealism ... shadowed by riddles, puns, emblems and ironies" which, he decides, cannot be decoded. "It is a dream. Nothing is real," as he delights in the naked wrestling giants, the massive turtle, the Mouth of Hell.
Don's mission ends at the Lakes in the north, where "everyone [was] speaking German", the waitresses were uptight and "the villas of the rich and famous line the edge of [Lake Como] like a geological stratum of wealth". This is George Clooney's holiday home territory. As Don prepares to visit a garden in Bellagio, a blue Bentley rolled off the ferry "in a blur of sunglasses and Botox".
Isola Bella, a baroque garden on an island on Lake Maggiore, is the last stop, "a floating wedding cake" from the water, a "Disney set wreathed in pink roses". In fact, a garden begun in 1632 to turn the rocky island into a "galleon" moored on the lake.
It sounds outrageous, with a "shriekingly theatrical saint", statues, enormous scallops, strutting peacocks (live ones), a unicorn "tethered only by the bulk of his enormous testicles". Yet, at the end of his day in the company of a place Don describes as "a tipsy drag queen ready to party all night long", he leaves exhausted and smiling, conceding it is "truly wonderful".
No wonder he had to rest his chin on his hand from time to time. The book has much the same effect on the garden-loving reader.