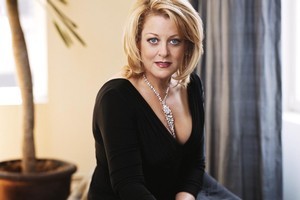 William Dart previews some glittering attractions in next year's world of music
One could feel a sense of civic and cultural pride emanating from the Town Hall stage when the Auckland Philharmonia Orchestra launched its 2012 season.
It was a night of classy show-and-tell. Christopher Seaman conducted the orchestra in tastings of treats to come; video clips took us south of Penrose for the APO's innovative Sistema Aotearoa programme.
The 2012 APN News & Media Premier Series may have some Brahms, Schumann and Tchaikovsky in the "symphony slot" but there is also Scriabin and Roussel.
Music director Eckehard Stier rounds off the 12 concerts with the New Zealand premiere of Messiaen's L'Ascension introducing Mahler's Fifth Symphony.
American soprano Deborah Voigt, singing Strauss and Wagner, features in July's Diva concert; top-line string men Anthony Marwood (violin) and Maxim Rysanov (viola) bring concertos by the Latvian Peteris Vasks and Alfred Schnittke.
This orchestra has always folded the contemporary into the classic. The main series offers music by Englishman Thomas Ades as well as a commission from the APO's new resident composer, Jack Body.
In May, Ross Harris follows his four symphonies commissioned and premiered by the orchestra with a new Cello Concerto, played by Li-Wei Qin.
The APO's shorter Great Classics series may favour the 19th century, but audience incentives include Roy Goodman conducting Beethoven's Fifth and prime soloists such as pianist Piers Lane and violinist Feng Ning.
The orchestra's annual Splendour series focuses on America, with a brief inclusive enough to accommodate Dvorak's New World Symphony. Watch out for John Corigliano's First Symphony, an "epitaph without words" for a generation felled by Aids, and Scottish percussionist Evelyn Glennie playing Christopher Rouse's Der Gerettete Alberich.
Special presentations include Verdi's Nabucco as Westpac Opera in Concert, Bach's B minor Mass as the 2012 Choral Masterpiece and a Latin Fiesta rescuing Piazzolla from the Land of the Encore. And for something completely different ... May's Remix the Orchestra celebrates five years of working with South Auckland hip-hop artists.
The images that linger from the APO's publicity booklet are Adrian Malloch's photographs of audiences in thrall.
The New Zealand Symphony Orchestra again promotes its upcoming season with kitschy tableaux from Fantasyland.
Concerts are grouped around these silly scenes, from "The High Seas" to "The Board Walk", even if water is nowhere to be seen in Stravinsky's Firebird and Beethoven and Mahler's Seventh Symphonies have little to do with culture clash on the board walk.
Name soloists include Lynn Harrell, returning with Elgar's Cello Concerto 10 years after Annie Goldson filmed it on his last visit, and pianist Stephen Hough bringing us another of his dashing Saint-Saens concertos.
A new name to watch out for is Canadian soprano Measha Brueggergosman singing Mahler and Chausson.
Spectacle is guaranteed when David Zinman conducts Strauss' Alpine Symphony in May and Simone Young the Bruckner Fifth two months later.
Some New Zealand music gets to nestle alongside Beethoven and Mahler - Ross Harris' song-cycle The Floating Bride, The Crimson Village is paired with the chintzy chinoiserie of the Yellow River Concerto to celebrate Chinese New Year and, in April, Pietari Inkinen graduates from Lilburn's Aotearoa Overture to the composer's Third Symphony.
Next year's Made in New Zealand selection lives up to its Wonderland title with a new Concerto for String Quartet by Lyell Cresswell, Chris Cree Brown's Celestial Bodies and mezzo Helen Medlyn in Gillian Whitehead's Alice.
The NZSO follows up the APO's Das Rheingold this year with a no-expenses-spared concert performance of Die Walkure which promises a Valhalla of stars headed by Simon O'Neill in a night "full of love, infidelity, abandonment and incest" - a scenario not quite done justice in a spread of bodacious babes from the orchestra as fantasical Valkyries atop snarling wolves.
NBR New Zealand Opera's glowing achievement for next year is a homegrown opera, even if Aucklanders will have to travel to Wellington's International Arts Festival to see Jenny McLeod's Hohepa.
This story of a Maori-Pakeha friendship set against the Land Wars should be well worth the trip, with the charismatic Phillip Rhodes in the title role and the redoubtable Martin Snell as Governor Grey.
June's Rigoletto seems a safe choice, too soon after the company's 2004 production, although Warwick Fyfe's malevolent Tonio in this year's Pagliacci suggests he'll be a scene-stealer in the title role.
September's The Bartered Bride, sung in English, promises some lively comic theatre from a cast including Anna Leese, Andrew Glover and Conal Coad.
Chamber Music New Zealand continues to provide for those who prefer the more intimate musical experience, starting the year with the legendary I Musici.
The Takacs and Enso quartets are the main overseas artists, both with programmes that will have many considering a trip to Hamilton to complement the Auckland concert.
CMNZ has always looked after the local at every level, from its secondary school competition through to its touring roster. This year, soprano Madeleine Pierard's recital programme includes Berg's Seven Early Songs and pianist Michael Houstoun is offering Beethoven's mighty Diabelli Variations as a solo turn, as well as touring with Sergey Malov, winner of this year's Michael Hill International Violin Competition.