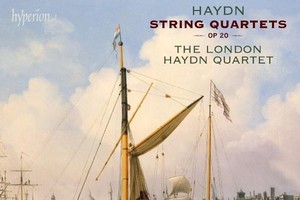 Two years ago, Haydn's bicentenary caused many to take him a lot more seriously. The New Zealand String Quartet swept us through 20 quartet movements from Opus 1 to 103, revealing just why Haydn is known as the father of the form.
However, if you feel that the concert hall is not the place for these pieces, then Hans Keller's your man. In his 1986 study, The Great Haydn Quartets, the English critic suggests these works are betrayed in such venues. Keller recalls how, as a radio producer, he would ask musicians "not to project, but to play (if they still could) as if they were at home and leave the rest to me".
I suspect Keller would be very happy with the third instalment of the London Haydn's Quartet's journey through these scores, focusing on Opus 20.
The emphasis here is on the authentic and it is not only a matter of gut strings and minimal vibrato; the musicians use the Artaria editions, overseen by the composer in 1801, decades after these works were composed.
The difference is revelatory.
A sprightly cadence figure in the first movement of the C major Quartet chirrups with ornaments instead of flowing in semiquavers.
A few bars into the G minor's Minuet, there is a new sighing dissonance from the first violin.
The cool harmonies of the work's Poco Adagio complement the outstanding cello contributions of Richard Lester, more familiar to some as a member of the Florestan Trio.
The London Haydn Quartet is a great team, especially in a D major Allegro di Molto which, as with other specimens of the composer at his most mischievous, fires in all directions - imagine a match dropped in a box of firecrackers.
And the gruff, wrenching accents of its Minuet make one wonder whether there is a drum somewhere in the mix.
Best of all, this exquisitely recorded set offers two discs for the price of one. Haydn, a practical soul, who took the trouble to note down an old sailor's recipe for preserving milk, would have approved.
Haydn: String Quartets Op 20
Hyperion, through Ode Records
Stars: 5/5
Verdict: "Cool and telling vindication of Haydn as Father of the String Quartet."