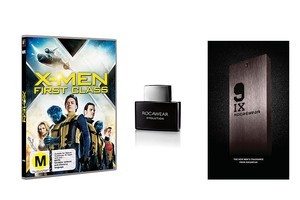 X-Men: First Class is being released on DVD, and to celebrate nzherald.co.nz has five prize packs including Rocawear fragrances to give away.
Before Charles Xavier and Erik Lensherr took the names Professor X and Magneto, they were two young men discovering their powers for the first time.
Before they were arch enemies they were the closest of friends working together with other mutants to stop the greatest threat the world hasever known.
In the process, a rift between them opened which began the eternal war between Magneto's Brotherhood and Professor's X-Men.
To celebrate the release of X-Men: First Class on Blu-ray and DVD, nzherald.co.nz is giving away five prize packs thanks to Rocawear and Twentieth Century Fox.
Rocawear, the leading global lifestyle brand, is changing-up the fragrance game with a new bold and unapologetic scent for men, Rocawear Evolution.
For the man who believes that forward is the only movement there is, Rocawear Evolution is about doing what has not been done before.
Each prize pack includes:
* A copy of X-Men: First Class on DVD
* A 50ml bottle of Rocawear Evolution
* A 50ml bottle of Rocawear 9IX
X-Men: First Class is available on Blu-ray and DVD from October 19.
Rocawear Evolution is available in stores from October 24.
To enter the competition, click here.
Terms and conditions
1. Information on how to enter and prizes form part of these Terms and Conditions. Entry into this competition is deemed acceptance of the Terms and Conditions.
2. The competition is open to New Zealand residents only. Employees of the Promoters and the Promoters' associated companies and their immediate families are ineligible to enter.
3. To enter the competition, entrants must submit their details by 11am, Friday, October 28, 2011.
4. The winners will be notified by telephone or email. Inability to contact the winners within three days of the announcement of the winners will result in prize being forfeited.
5. The prizes consist of: One copy of X-Men: First Class on DVD, one 50ml Rocawear Evolution and one 50ml Rocawear 9IX.
6. The Promoters' decision is final and no correspondence will be entered into.
7. By ticking the optional box "I am happy for APN (publishers of nzherald.co.nz) to email me information and promotions that may be of interest" entrants acknowledge that they are agreeing to receive future emailed communications from the Promoters.
Entrants' personal information will be stored on a database by the Promoters. A request to access, update or correct any information should be directed to the Promoters at the addresses set out below.
8. The Promoters are APN (New Zealand Herald and nzherald.co.nz), 46 Albert Street, Auckland, 1010, New Zealand.