There's something about it feeling like it could all fall apart that makes it exciting. Six60 didn't plan for the success they have had, writes Lydia Jenkin.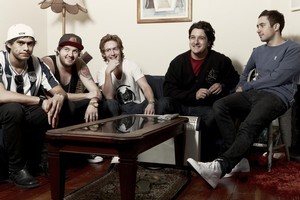 Six60 are the epitome of a Gen Y band.
Having all met at a Kora gig in 2008, the five mates ended up flatting together in Dunedin's infamous Castle St - at number 660. They had a few jams, started playing at various house parties for beer, and followed with gigs at local bars.
They quickly accumulated fans via Facebook, and decided (encouraged by friends and family) to record some tracks for an EP and pop them online.
Three years on, they're one of NZ's biggest party bands with 75,000 Facebook fans, a knack for selling out live shows on their regular tours of NZ and Australia, two platinum-selling singles in Rise Up 2.0 and Don't Forget Your Roots, and three nominations for this year's NZ Music Awards. All before they've actually released their self-titled debut album, which finally comes out this week.
And what makes this success all the more remarkable is that they never planned for this to happen, as gregarious lead singer Matiu Walters explains.
"I hadn't even really thought about being in a band until I met the other guys. I definitely grew up around music, just having a Maori family who all thought they could play guitar and sing, and there were always singalongs, and Mum and Dad would play lots of music on the stereo ... I tried to study music at Auckland Grammar School, and came away with a bit of a hatred of it, it was just so bland and conservative. And then I went down to Otago University, didn't get into the contemporary rock course, but I guess they were all blessings in disguise really."
Their first bar gig was an open mic night at Backstage Bar, which they sold out, with plenty of mates coming along as support. However, their first proper show at Al's Bar in Christchurch also sold out with the help of a wee online campaign.
"It wasn't a big venue, but still it gave us the taste for it. I guess it's kind of like gambling, if you have a good first gambling experience, you keep doing it."
They've now spent a solid amount of time on the road, playing festivals like Big Day Out, Splore, Rhythm and Vines, and Homegrown as well as headlining their own tours, earning a reputation for epic live sets full of songs which often address some pretty big themes, calling punters to rise up against whatever they're struggling against.
"What we always try to do is talk about a bigger picture so that people can create their own story, create their own finish to something, because we're doing it for them."
The band also aim to keep an element of risk and edge in their live shows.
"There's something about it feeling like it could all fall apart that makes it exciting. Sometimes you freak out, and most of the time stuff will go wrong, but that's the nature of the beast, and what's so cool about it at the same time. You wouldn't really want to go to a Chili Peppers concert and see this over-rehearsed beast. I'd much rather see them rocking it out, missing notes and having a ball."
The 16 tracks which make up the double album were refined earlier this year when the band took themselves to Matiu's family bach at Mangawhai, before they headed into The Lab in Mt Eden for an intensive two weeks to record, with Tiki Taane in the producer's seat.
"He seemed to get what we were about, and was really enthusiastic about everything. We feel like the best thing he did was also give us confidence in ourselves, confidence in our own judgments."
Their music ranges wide, following in the Kiwi tradition of fusing rock, roots, dub, drum'n'bass and reggae, but the band's influences are even more diverse.
"Ji is very guitar-driven, he loves to play lead, I'm from Auckland so I grew up with hip-hop and I love beats, my parents had me on Motown and soul music so I love soul tones and soul harmonies. Marlon our synth player is a heavy metal fiend, so there's something pretty heavy about his stuff, Chris is a punk fiend so that's where we get our 'on edge' thing going, and Eli just loves everything, he loves Oasis actually.
"And it all kinda came together and it fits, just because we're up for it, and we're mates and we're keen."
It's this earnest enthusiasm and fun-loving attitude that connects with such a large audience, even if the band are still fairly modest about their achievements.
"We don't think of ourselves in the sense of being favourites, or being popular, we're just three Maoris, an Aussie and a ginga, who, without pretence, are writing songs that make us feel something.
"We love to entertain, we love all kinds of music, and I guess we just hope people feel the same things as we do when we write them."
LOWDOWN
Who: Six60
What and when: Six60 debut album out now; tour of NZ and Australia starting this week, playing Auckland at the Powerstation on November 11.
-TimeOut