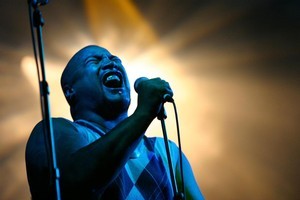 Friday Night Drinks? Meet me at:
I don't get too many Friday nights off because I'm usually playing or touring, so for me, anywhere that Manuel Bundy is playing is sweet.
Where I'll be wearing my new:
Shelltoe Adidas trainers.
And this weekend I'm planning on:
Attending the finals of the Red Bull Thre3style at The Studio on K Rd. Like last year I will be the MC for the night, and we will witness some of the the best party-rocking DJs New Zealand has to offer. Each DJ has 15 minutes to play, with a minimum of three different styles of music, in their bid to win over the crowd. The winner gets to represent Aotearoa overseas in the world finals.
But first I'll need to refuel at my favourite cafe:
Conch on Ponsonby Rd.
Saturday evening, if my dreams came true there would be a gig by:
Little Dragon, James Blake, Erykah Badu, and Submotion Orchestra at Muriwai Beach.
But if there's nothing else doing I'll probably just:
Be riding my Ducati.
On my stereo/headphones right now is:
Submotion Orchestra.
The books I can't put down are:
I collect motorbike mags, sorry - all the excitement I need.
The TV show I take the phone off the hook for:
Game of Thrones.
The movie I've been dying to see:
Fastest - a documentary by Mark Neale about the MotoGP world championship.
A non-cooking Monday night means takeaways from:
Top Shop fish 'n' chips at Muriwai.
Or a splash-out Wednesday night restaurant would be:
This one varies a lot depending on my hunger. Mostly fine Japanese food.
PDigggs will MC the Red Bull Thre3style DJ competition at The Studio on October 14. Shapeshifter play four dates over New Years. For more info go to shapeshifter.co.nz