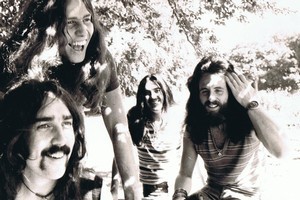 A third veteran act has been added to the double-header of Dragon and Hello Sailor at the Powerstation on November 4.
Ticket, who share their rhythm section of Ricky Ball and Paul Woolright with Hello Sailor, will be the evening's openers. The acid rock band with the frontline of guitarist Eddie Hansen and vocalist Trevor Tombleson played some reunion shows in hometown Christchurch and Auckland a year ago to mark the reissue of their 1972 debut album Awake.
Meanwhile, in other band reunion news, Blam Blam Blam as well as other members of the local post-punk class of 81 are playing the Rock for Starship benefit show at Parnell's Juice Bar on November 11. Also involved are the Features, Fetus Productions, Scrunch (a Newmatics off-shoot), and Andrew Fagan.
- TimeOut