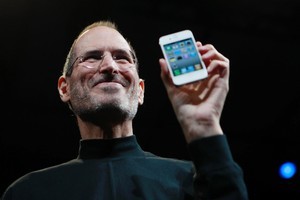 See you later Steve, and thanks for revolutionising my music listening experience - and the world's. Because when Steve Jobs and his Apple cronies got into the music business with iTunes and the iPod in the early 2000s, it really did make music more accessible than ever before.
It also made buying music - something that was becoming increasingly endangered at the time - attractive again, since it was easy to purchase and reasonably affordable.
And at its most basic, iTunes is still the most effective music cataloguing system around. Okay, so showing your friends how many songs you have jammed on to your computer - and inside your iPod - is not as cool as wowing them with shelfloads of records or your 2763 CDs (well, that was cool in 1999 at least). But a vast and diverse iTunes library can still be pretty impressive viewing nonetheless.
If you ask me, Jobs' gadgets revolutionised music listening a little too much because I still can't decide what to listen to half the time. My bus ride to and from work is usually spent playing Mr DJ Selector rather than getting on and reading that overdue library book that I really should finish.
However, the great Apple man, who died last week, also has a few things to answer for.
For starters, I actually quite like going to record shops and buying real life records in cardboard sleeves.
But iTunes, by far the world's biggest music bazaar, has put the boot into over-the-counter sales of songs (although smaller, boutique record shops are undergoing a bit of a renaissance at present it seems). Still, that retail trend is not exclusive to music with everything from moisturiser and nappies to groceries and electronics being bought online these days. So we can hardly blame Jobs entirely for the shrinking of the music retail business.
Possibly more worrying is that thanks to the trickery of "cherry picking" songs, made easy by iTunes, Jobs has to be held partly responsible for allowing every Tom, Dick, and Harry - good music taste or not - to think they are a bloody DJ.
Enough with Simply the Best at the Christmas function, please.
Then there's that other - quite often awful - result of cherry picking that has brought about the rise of "singles artists" such as Katy Perry, Bieber, and bozo hip poppers LMFAO.
And this focus on a singles-driven music market has also led to accusations that Jobs, and the likes of Napster back in the day, have contributed to the death of the album. To begin with, the album ain't dead. Far from it. Because while the long player is no longer the chief commodity in the music industry, from a musician's perspective - not to mention that of many music fans for that matter - the album is still the pinnacle of musical creativity. Plus, there are more new albums out there to be listened to than ever before.
The most recent case for the enduring nature of the long player is Bjork's latest release, Biophilia . But it's not just any album. The multimedia extravaganza is the world's first app album, with 10 separate apps for each of the 10 tracks. Yes, a typically fruity Bjorkian concept - but one with Jobs' legacy imprinted all over it.
- TimeOut