Daniel Phillips witnessed Bo Diddley play the Prince of Wales in Melbourne on April 4, 2007.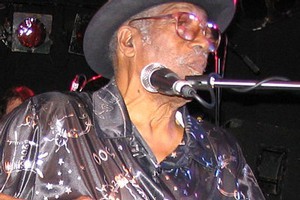 Bo Diddley was the originator - without him there'd be no Beatles, Mick'n'Keef, no Pistols, no rap. Big call? Yes. Is it true? Absolutely.
When I heard he was touring Australia, I had to go - so I was off to the Prince of Wales, a tiny club that holds 500. Diddley, one of the pioneers and innovators of rock'n'roll, was getting on in years and I had a hunch this could be my last chance to see him.
Unfortunately, in just over a year, the guy who singlehandedly invented the "Bo Diddley beat", cool guitars and gave swagger to rock'n'roll would be dead.
New York Dolls and Pixies were playing the V Festival that night but I didn't care. This was Bo Diddley, the original badass! Me and some mates were right up front, and Diddley seemed to really get a kick out of playing to some young guys down the front.
He was joking and laughing with us, and he even shook my hand. It was clear Bo was enjoying himself as much as we were.
He opened with Who Do You Love?, and even branched out into hip-hop with the very funny Old Folk's Rap - and of course he did I'm A Man. The sounds he made with his guitar were primordial and beautifully raw.
It was strictly no photographs, but my mate was madly snapping away - the club owner was throwing bits of paper and other objects to get us to stop. It was really lucky we captured a few images of that great night.
Diddley suffered a severe stroke a month later. He managed to hold on another year, but this would go down as one of his final shows.
I've seen a lot of the 'greats', but this one always stands out. Diddley gave this boy from New Zealand one of the greatest nights of his life.
Thank you Bo - you're still the man.
* Daniel Phillips won the Super Deluxe edition of Nevermind for his Bo Diddley History Made.
What: Bo Diddley
Where: Prince of Wales, Melbourne
When: April 4, 2007