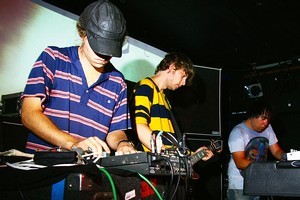 It is on rare occasions like this that a quiet Auckland Wednesday night turns into an explosion of energetic noise.
You can't really smell the weekend then, so most patrons of the Kings Arms take their time to actually listen rather than jump to some of the most extreme electronic live stuff heard this year.
Local happy hardcore/suburban rap duo $norgazZzm gets to kick off. Both dudes rap but their performance styles are very different; one of them acts like he's come straight outta Compton, while his friend seems like he would have been more at ease behind the keys if there were any. A big up for their crystal-clear and intelligent electronic compositions, but it would have been good to see some vintage electronics on stage.
Good on follow-ups Golden Axe for filling this gap - some of their gear seems to be held together with sticky tape. Their music isn't any slower than $norgazZzm's but more compelling and MDMA-drenched.
A few hours into the night and it's time for headliner Black Dice. Over the last decade or so, the New York band has transformed from a four-piece post-punk/post-rock ensemble with live drums to the avant-garde noise-electronica trio they are today.
They start relatively friendly, with their aggressive beats accompanied by Sly Stone-like funkiness on the guitar.
However, the shoegazing guitarist turns out to be a sheep in wolf's clothing as the remainder of the show is characterised by never-ending grooves pulsating in oceans of psychedelic noise.
While Black Dice never allows their crowd to have a break from their rhythmic barbarism, they do reduce the noise every once in a while. It is during these moments that you come to realise how great their "rhythm section" is: from mean electro bass to ethnic percussions, it's all warm and on full strength - great stuff.
What lifts Black Dice above most of their fellow noise and breakcore contemporaries is their ability to avoid rhythmic and melodic clichés; just when you think you're hearing one, Black Dice changes direction.
With Animal Collective-associated Danny Perez's mind-expanding videos on the background, Black Dice live deliver an awesome hour of psychedelic escapism, and that's right up the alley of this night's eager crowd.
What: Black Dice & $norgazzzm
Where: Kings Arms, Auckland
When: Thursday, October 6