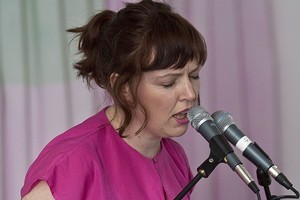 This particular Bachelorette performance was always going to be weighted by sentimentality.
Having impressed both national and international audiences since 2005 with her varied electronic output, ranging from the cute pop of I Want to Be Your Girlfriend to the emotive textures of her eponymous 2011 farewell, Bachelorette's show at Glue Gallery was to be her final Dunedin show.
A relatively new venue, Glue Gallery's large main hall was a fantastic choice, the darkened, stark room hosting a supporting exhibition showcasing images of Annabel Alpers by local photographer Lou Clifton (who Alpers described as responsible for the "single-handed creation of the Bachelorette image") before the performance began.
A restrained, humble and loveably-awkward performer, Alpers was charming and relaxed throughout, joking with her audience about her many "mistakes" during the evening.
Creating cosmic, emotive sounds accompanied by color-saturated projections, her stunning voice showed why Bachelorette has been so treasured.
Performing Blanket, her recent single and self-professed "best song", Alpers masterfully controlled multiple digital loops while displaying pitch-perfect control of her reverb-laden voice; the sonic layering creating uplifting, deeply introspective pop music.

Compliments too must be given to John White and Germany's Jasmina Maschina, who both deserve far more print space than I have afforded them.
While the Bachelorette moniker will be missed, its passing leaves Annabel Alpers free of expectation, an extremely exciting prospect.
What: Bachelorette with John White and Jasmina Maschina
Where: Glue Gallery, Dunedin
When: Thursday, October 6
Follow Volume on Twitter
Like Volume on Facebook
- Volume