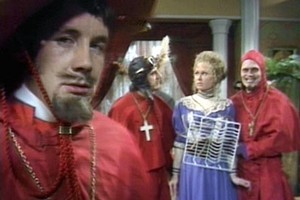 It was supposed to be a tribute to one of Monty Python's most famous moments, when the comedians took on religious figures incensed by their 1979 satire The Life of Brian.
But the writers and producers behind the BBC's forthcoming comedy drama, Holy Flying Circus, have angered rather than flattered them.
The programme, to be screened on October 19, focuses on incidents including the 1979 television debate between Pythons John Cleese and Michael Palin, and the Bishop of Southwark and Malcolm Muggeridge.
More than 30 years later, Holy Flying Circus is billed as a "fantastical reimagining" of those events. However, Cleese and Iain Johnstone, who produced the original TV debate, have now protested at historical inaccuracies in the show.
A source close to Cleese said he offered to meet Holy Flying Circus' producers at an early stage but the meeting never occurred.
Cleese had subsequently seen a copy of the script and was disappointed by its content, given it was not a fair reflection of the facts and was "full of inaccuracies".
Another former Python, Terry Gilliam, said some members disliked the idea of the new drama "because it's not us".
Johnstone said: "Michael Palin didn't want to be involved in the project. John would have liked to have been consulted but wasn't."
He was annoyed that he was originally told by the producers that Holy Flying Circus would be along the lines of Peter Morgan's 2006 play Frost/Nixon.
He raised concerns about the script's accuracy, including the portrayal of the Pythons' dealings with the Christian watchdog Nationwide Festival of Light, which he felt was exaggerated.
"Why bother to put in made-up material? They could've researched it properly and it would've been just as funny."
- INDEPENDENT