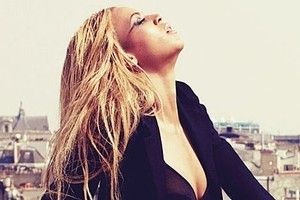 Beyonce has been accused of plagiarism just days after releasing a new video for her single Countdown.
The claims come from Belgian choreographer Anne Teresa De Keersmaeker, who says the dance moves in the Countdown clip - directed by Queen Bey and Adria Petty - closely resemble a ballet video created by her.
"I didn't know anything about this. I'm not mad, but this is plagiarism," she told Ace Showbiz.
"This is stealing. They took pieces from Achterland and Rosas danst Rosas. It's a bit rude, I must say."
"What's rude about it is that they don't even bother about hiding it. They seem to think they could do it because it's a famous work. ... Am I honoured? Look, I've seen local school kids doing this. That's a lot more beautiful."
Beyonce hasn't responded to the claims, but in a previous interview Petty admitted being inspired by European dance videos.
"I brought Beyonce a number of references and we picked some out together. Most were German modern-dance references, believe it or not. But it really evolved," Petty said.
Beyonce is expecting her first child with husband Jay-Z.
Decide for yourself if the videos are similar in the comparison video below:
- Herald online