Out with vampires, in with other-worldy romance, writes Nicky Pellegrino.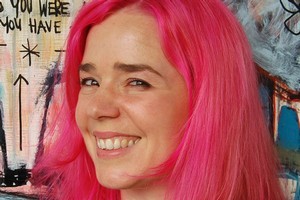 I had absolutely sworn off angels, vampires, witches and any other fantastical creature you care to mention after reading a surfeit of them in the past couple of years but Daughter Of Smoke And Bone by Laini Taylor (Hodder & Stoughton, $34.99) somehow worked its magic on me.
I think a large part of this novel's charm is its fantastic "girlpower" heroine, Karou, who has bright blue hair and a secret other life. And yes, it is a fantasy romance, complete with angels and devils, but Taylor's prose is fresh and sassy enough to blow away any ennui with the genre.
Karou is an art student in Prague. She has a sketchbook full of strange drawings and a tendency to disappear so all her friends think she is eccentric. The truth is Karou lives between two worlds - the human one and another place, Elsewhere, where she was raised.
She has no family beyond a horned beast called Brimstone who runs a mysterious underground shop where he trades in teeth and creates magic. Karou knows nothing about herself or where she came from, but on her hands are tattoos designed to ward off the evil eye.
When Brimstone calls on her to collect teeth she drops whatever she's doing and disappears through a secret portal.
All is not well in Elsewhere. Its inhabitants, the chimaera, are locked in a centuries-old battle with their deadly enemies, the seraphims.
Just as things are reaching breaking point, Karou meets one of these glorious winged creatures and very quickly the story becomes a kind of fantasy Romeo and Juliet with star-crossed lovers and dangerous, forbidden desire.
But there isn't much time for Karou to dally with romance. The portals to Elsewhere are closing and the lives of those she loves are at risk. Somehow, she must find a way to reach them.
Whenever I try to describe the plot of a fantasy novel it comes out sounding ridiculous. But the worlds that Taylor has created and the creatures that inhabit them are richly imagined, vivid and compelling.
The story goes to some dark places and seems to have a real philosophy underpinning it. Taylor is a clever writer who weaves together reality and fantasy successfully and understands pace, gradually revealing her secrets and balancing the action with thoughtfulness.
Just like the best-selling Twilight books, this is a trilogy; one I think is aimed at the young adult market, although it will have broader appeal. But Daughter Of Smoke And Bone aces the Twilight books, in my opinion. It shows them up as shallow, repetitive and rather creepy. Fierce, courageous Karou could kick sappy Bella's butt and the mythic creatures she befriends make Edward Cullen look like nothing but a glittery rich kid with a fast car.
US author Taylor has written three other novels. This one will be her big breakthrough title judging by the buzz about it, particularly on the internet where fans of the genre have been raving.
Perhaps they, too, were getting sick of the recent plague of vampires and were ready for something fresh.
If you're a lover of fantasy romance, you should read this book. Even if, like me, you're rather more reserved in your feelings about the genre, this is a cracker of a story and a truly entertaining read.