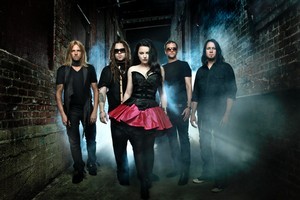 The new Evanescence album has been three years in the making and comes a lengthy five years after the band's sophomore offering, The Open Door. It's a long time in a rapidly changing beast of an industry - and lead singer Amy Lee knows it.
But if there was one thing the self-confessed perfectionist wasn't going to do, it was crumble to pressure and put out an album before she was ready. Now that the time's right, the 30-year-old can't wait for the symbolically self-titled record to be released.
"We went down a lot of different roads and we ended up with this amazing soup that's full of so many different things. Anything that didn't work right isn't there. Some of the pieces are unexpected and I love that.
"It's been a long journey and I'm so ready for people to hear it."
Lee is the only remaining original member of the Grammy-winning rock band, which has sold more than 20 million albums worldwide since forming in Arkansas in 1995.
With the new line-up, including Terry Balsamo on guitar and Tim McCord on bass, Lee says she feels a sense of freedom she has not experienced before. And yet, at the same time, she also finds herself more reliant on her bandmates than ever.
"This process became more about working as a group. On both of the other records, it was just me with one other person writing the music, then being in front of Pro Tools and bringing in the band later - it was less of a group effort."
Despite the upheaval, Lee is confident they have made an album that stays true to the band's rock roots, but with a few tweaks.
"It does sound like an Evanescence record for sure; it's still got that depth and that passion and all those elements we've always had musically, but with some additions and growth.
"It was like falling back in love with this thing, but it's the new version."
The new self-titled Evanescence album is out tomorrow.