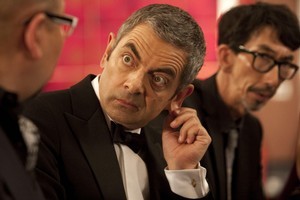 With Not The Nine O'Clock News a distant memory and Blackadder on perpetual rerun, Rowan Atkinson's best work is behind him. But if the Mr Bean and Johnny English movies are anything to go by, the public continue to love him. He still makes the masses laugh and his films make money.
Despite the tidy profit the original took at the box office, it's taken eight years to follow up Johnny English. Based on the results, they should have taken longer.
Johnny English Reborn is a clumsy attempt to capitalise on Atkinson's rubbery expressions and quintessential Englishness. When it's funny, it feels unintentional, and Peter Sellers did this kind of comedy so much better as Clouseau in The Pink Panther films. The plot is ridiculous, and the action limps along from gag to stunt to outlandish conclusion.
There are occasional set pieces that draw a giggle. The free-running sequence, spoofing 2006's Casino Royale, is mildly amusing, as is the low-flying helicopter ride.


Not even The X-Files' Gillian Anderson can save Johnny English Reborn. She replaces Tim Pigott-Smith as MI7 boss Pegasus and seems to have as many reservations about her choice of role as she does about English's abilities.
Atkinson should leave the spy spoof to Mike Myers, who recently announced a fourth instalment of his hilarious Austin Powers franchise.
JOHNNY ENGLISH REBORN
Stars: 2/5
Rated PG; 101 minutes. Out now