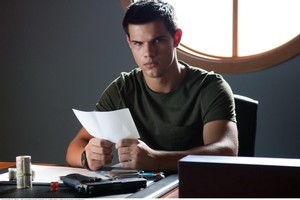 The transition of the Twilight stars on to the next stage of their careers will prove interesting over the next few years; in Abduction we get to see Taylor Lautner make his first attempt. Supported by a strong cast and plenty of action this teenage Bourne Identity-like adventure keeps moving, but is let down by a predictable plot and a wooden performance from its headlining hunk.
Lautner plays Nathan Harper, a high school student who discovers his folks (Maria Bello and Jason Isaacs) aren't his real parents and his life is a lie. Before he can get to the bottom of his true identity his family is attacked, and Nathan and his next door neighbour Karen (Collins) find themselves on the run from foreign assassins and the CIA as they try to uncover the truth about his past.
Lautner has the action scenes down pat and is comfortable staring longingly at Karen, his romantic interest in this adventure, but he struggles to show anything resembling genuine emotion. He also appears too conscious of the camera and takes the easy option of coming across as an action hero rather than a character enduring a life-changing experience.
And with a modest budget of US$35 million ($46 million), Abduction feels like a bunch of kids trying to play grownups. To be fair to Lautner, Abduction's derivative and clunky plot doesn't help his case, but it feels like this is an opportunity to cash in on his Twilight success more than the beginning of a new stage in his career.
Stars: 2/5
Cast: Taylor Lautner, Lily Collins
Director: John Singleton
Running time: 106 mins
Rating: M (Violence & offensive language)
Verdict: Lautner can throw a punch, but lacks charisma as a leading action man
-TimeOut