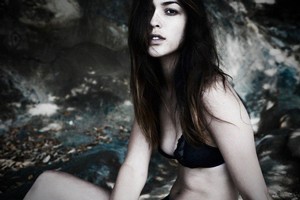 Friday night drinks? Meet me at:
Malt in Grey Lynn because it's always a guaranteed good time.
Where I'll be wearing my new:
Mac has a cool deep sea green nail polish that I have been wearing lately. Or else I have a teddy bear badge from Stolen Girlfriends Club that's finding its way on to my jumpers a lot right now.
And this weekend I'm planning on:
Going to the Rugby World Cup. Go the All Blacks.
Saturday evening. If my dreams came true there would be a gig by:
Oh, Jay Z would be pretty cool.
But if there's nothing else doing I'll probably just:
Chill and listen to Jay Z at home. Hahaha.
On my stereo/headphones right now is:
Hall and Oates. They are awesome and coming to Auckland in the summer so I've been listening to them a lot to get on the buzz before they get here.
The books I can't put down are:
I'm not reading a book at the moment but a great series of books I couldn't put down were the Harry Potters.
The TV show I take the phone off the hook for:
The Wire, still. Great tele.
The movie I've been dying to see:
I love Mystery Train, it's such a good film. I could watch it again and again.
A non-cooking Monday night means takeaways from:
Mexician Specialties in Ellerslie. If only they were open on a Monday though. The food is so good.
Or a splash-out Wednesday night restaurant would be:
SPQR in Ponsonby Rd. Their pizzas are always good.
*Ngahuia Williams will be one of the judges of the Cult Couture 2011 fashion showcase on October 15 at TelstraClear Pacific Events Centre as part of the Southside Arts Festival. The festival runs from October 14 to November 6 with a line-up of theatre, art, dance, music and fashion events. For more information go to southside.org.nz.
-TimeOut