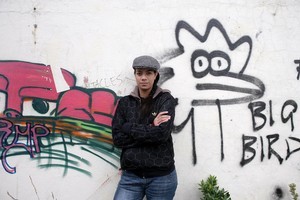 A new local music festival might be going head-to-head with the Big Day Out but it has a very different target market.
The three-day Bloom Family Festival at Matakana Country Park starts on January 20 (the same day as the BDO) and is designed for the whole family.
It takes inspiration from Britain's Camp Bestival, which targets families with young children - basically meaning lots of music and loads of sideshow fun. In Britain it has been headlined by Chuck Berry and the Cure, and this year Blondie and Primal Scream took top billing.
The New Zealand event will be headlined by local artists including Ladi6 (pictured), Greg Johnson, and Sola Rosa as well as the Thomas Oliver Band, Dave McCartney and the Pink Flamingos, and many others.
Family activities on offer include everything from the Funky Fairground, which includes water slides, mini-jeeps and bouncy castles, and the freestyle skate park, through to dance workshops with the Royal New Zealand Ballet and interactive circus, magic and comedy shows. For more information go to bloomfamilyfestival.co.nz.
Tickets go on sale Monday from i-ticket.co.nz.
- TImeOut