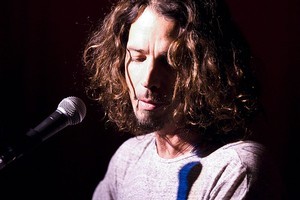 Fans are used to hearing Chris Cornell sing over walls of guitar rawk but tonight the grunge icon will perform with just a stool and an acoustic guitar for support.
Cornell performs the first of two shows at the ASB Theatre in Auckland tonight, and fans should look forward to an intimate evening with the grunge icon.
It's a rare chance to see the Soundgarden and Audioslave singer unplugged, and with a 9pm start time and generous two-hour set planned, fans will want to get comfortable.
Cornell will be performing songs from throughout his career - and that's both a good and a bad thing.
It's a good thing because he's going right back to his roots with classic tracks like Hunger Strike from Temple of the Dog and Seasons from the Singles soundtrack.
Of the 25-odd songs he's been playing on his solo tours, Cornell also throws in plenty of well known stuff from his stints in Soundgarden and Audioslave, as well as a few covers.
A recent setlist from a show in San Diego had him covering Pearl Jam's Betterman, Bob Marley's Redemption Song, Bruce Springsteen's State Trooper and John Lennon's Imagine.
And in Wellington on Sunday night he opened the set with Syd Barrett's Dark Globe and also dropped in Led Zeppelin's Thank You.
But it's also a bad thing because fans will probably have to endure several songs from Cornell's recent solo misstep, Scream - an album produced by hip-hop star Timbaland that was roundly panned by fans and critics.
He might even throw in his ill-advised cover of Michael Jackson's Billie Jean - but songs like Black Hole Sun and Blow up the Outside World will more than make up for that.
Cornell told TimeOut's Scott Kara that he was in the middle of the busiest phase of his career.
"To be working between the two worlds, with the tour being so stripped-down, and to have that sandwiched between recording Soundgarden material, which is about aggression, adrenalin, and rhythmic chaos, it's great," he says.
"I can't remember a time in my career when there has been this much going on, so much diversity in music, and every day is full of focusing on music in some form or another in a kind of unpredictable way."
If you're gutted at missing out on Cornell's solo shows this week, there'll be another chance to catch him when he rocks out with Soundgarden as one of the headlining acts at next year's Big Day Out on January 20.
Tonight's show is sold out.
What: Chris Cornell
Where: ASB Theatre, Auckland
When: October 4 & 5
* A full review will be posted on nzherald.co.nz after the show.
- Herald online