95bFM Morning Glory host Charlotte Ryan visits the set of one of the most hallowed music shows on television - the BBC's Later... with Jools Holland.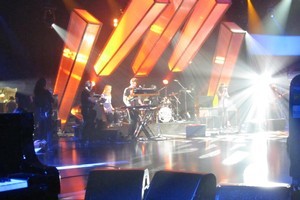 Just two short weeks ago, I received exciting news.
Not only was my partner Matthias Jordan going to perform on Later... with Jools Holland playing with Pajama Club, but I had the opportunity to travel to London to attend the show too.
On Tuesday September 27, I arrived at the vast annex of the legendary BBC television studios. We collected our passes in the main reception and instantly felt excited by the hive of activity taking place.
We were lead through the huge concrete building to the dressing rooms, located below ground level under the studio where the show is recorded.
The corridors are very long and hospital-like, inside each of the 90s renovated dressing rooms, there are walls of mirrors, a mounted TV screening BBC channels and a wall with three hand basins in a row with white folded towels.
The air-conditioning was not working in many of the dressing rooms, so we had our door wide open. The smell of the toilets was intense - a mixture of alcohol slash vomit, and on numerous occasions I busted couples coming out of cubicles together.
There was no security downstairs where we were - so some bands got quite wild and loud at some points later into the evening.
I followed Pajama Club to the main studio for camera rehearsals and then after a brief period backstage it was show time.
Pajama Club is Neil and Sharon Finn's new musical project they worked on with Sean Donnelly (SJD).
Due to Sean's illness, they asked Matthias to fill-in on tour. For the Jools Holland performance, they also invited Pip Brown (Ladyhawke) to play drums and Madeleine Sami (The Sami Sisters) to do backing vocals.
At 7pm the studio audience arrived, jostling for the best vantage points in viewing stalls dotted around the set.
Tonight they were to be treated to performances by Kasabian, James Morrison, Wretch 32, former Dr Feelgood Member Wilco Johnston, Malian singer/songwriter Fatoumata Diawara and of course 'All the way from NZ' (as he introduced them) our very own Pajama Club.
The extended show began with a one chord jam involving all of the bands and a high level of excitement from both the performers and the studio audience.
Jools Holland is the consummate ringmaster, effortlessly pivoting from band to band with an amazing entourage of cameramen and cables tracking his every move. Twenty years on the show and you can understand why he is so revered.
I loved watching a show filmed in such a classic format, I was reminded of so many great performances I have watched on other Jools Holland episodes and even performances from the Ed Sullivan show and others - it would be so good if NZ television had a show like this to support our local music scene..
As the show wrapped up, I couldn't help but feel awe struck by having a front row seat to one of the finest music shows in the world and intense pride for Pajama Club and their excellent showing which more than matched the other bands they were paired with on the night.
I sat outside the studio in the strangely balmy autumn weather only to witness David Hasselhoff, Noel Fielding and KIT (yes the actual car from Knightrider) filming a skit for Never Mind The Buzzcocks, but that's another story in itself.