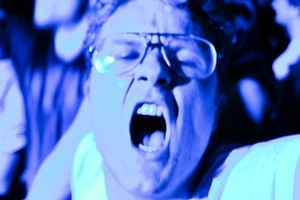 Vector Arena is pretty damn big and the sounds at this R&V Soundcheck do the space justice: in your face, pumping, banging.
One of the night's headliners, Katy B, cancelled earlier in the week and she's the talk of the night: Vector is a little sad about missing out on this dubstep babe on stage.
Her replacement Nero rocked The Studio just a few months ago, and projects his gabba-synth laden house and dubstep once more for the Auckland audience.
The hands of the Ministry of Sound-associated DJ/producer seem to be up in the air rather than touching the decks.
This writer's stomach suffers from a butterfly attack when Diplo rises behind the decks.
The Philadelphian's resume is impressive: from adding distorted punk basslines to Cutty Ranks' toasting to making gunshots sound funky on M.I.A.'s Paper Planes, he's done it all.
Tonight, Diplo is a massive crowd pleaser - he's also next level. Diplo's production versatility beats the variety of his DJ set, but his message is clear: music is music and there should be no boundaries whatsoever.
So ADD-house meets reggaeton and Miami Bass-infected hip-hop is followed by big room dubstep wobbles. Diplo is a master in taking the cheddar out of tacky genres and making it sound like some high-end Caciocavallo cheese.
Following Diplo, it's time for Magnetic Man, dubstep's equivalent of rock supergroups like Them Crooked Vultures and SuperHeavy - terrifying.
With the memory of Nero's commercial set still fresh, Magnetic Man sounds like a South London soundsystem: minimal, bass-heavy and accompanied by female dancehall raps.
Not a bad last impression from a night of stadium-sized rave.
What: R&V Soundcheck with Magnetic Man, Nero, Diplo
Where: Vector Arena, Auckland
When: Thursday, September 29
* This review will appear in next week's edition of Volume.
- Volume